Botulinum Toxin Type A (Botox)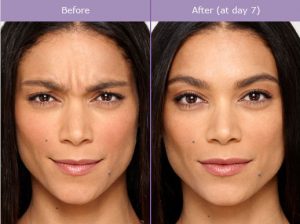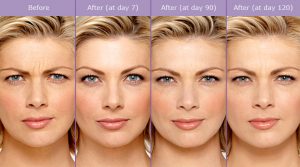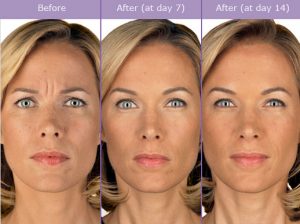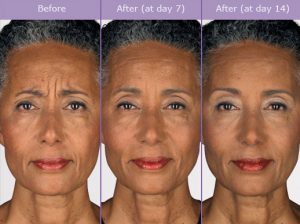 Botox is the world's most popular non-surgical dermatology anti-aging procedure for the face. Ever since this injectable procedure was approved by the FDA in 2002 for the reduction of specific facial lines and wrinkles, it can continued to dominate as the most preferred treatment for people who want subtle facial rejuvenation without involving surgery.
Botox injections can smooth frown lines on the forehead and between the brows, reduce crow's feet and mitigate fine lines at the base of the nose. Board certified dermatologists Dr. Tri H. Nguyen and Dr. George G. Hughes III provide Botox injections to patients in Houston, Katy, Spring, The Woodlands, Texas, and surrounding communities.
How does it Work?
Botox is derived from botulinum toxin type A, which is a powerful biological agent. Botox uses this neurotoxin in a highly diluted form to relax an overactive facial muscle that may be forming wrinkles on the skin's surface.
Botox immediately cuts off the communication between the muscle and the nerve, causing the muscle to relax, and the effects can last for a temporary period of about three to four months. This unique cosmetic dermatology treatment can be performed in-office and involves no anesthesia or downtime.
Candidacy
The FDA has approved Botox treatment for candidate in the group of 18 to 65. The individual should be in good general health, have realistic expectations and be aware of the potential risks of Botox. Patients who are bothered by the appearance of minor facial signs of aging caused due to muscular activity, but want to avoid surgery, may make stellar candidates for Botox treatment.
Working people and busy moms typically choose Botox over other options because they prefer to avoid procedures that will involve a prolonged downtime. Pregnant or nursing women, and people with any known neuromuscular disorders should avoid Botox treatment.
Areas of Treatment
Eyes
Dynamic wrinkles caused due to frequent muscle movement and facial expressions are commonly found in the area around the eyes. These wrinkles usually respond well to Botox, and can help to rejuvenate the eye appearance.
The FDA has approved Botox for the cosmetic reduction of crow's feet around the eyes. The patient will not experience numbness or loss of feeling because Botox will only affect muscle nerves and not the nerves of sensation.
Brows and Forehead Wrinkles
Wrinkling of the brow can occur due to repeated smiling, laughing, and frowning activity. Botox is FDA approved for the treatment of moderate to severe frown lines between the brows.
Both women and men can significantly benefit from the reduction of furrows between the brows. Forehead lines can also be dramatically mitigated with Botox because the treatment works very well on horizontal lines.
Jaw Contouring
Enhancement of jaw contours for people with a square shaped face is one of the latest uses of Botox. Botox can reduce the size of masseter muscles, resulting in a gently curved cheek and jaw. Board certified dermatologists Dr. Nguyen and Dr. Hughes receive patients from Houston, Katy, Spring, The Woodlands, Texas, and other cities and communities across the horizon for Botox injections.
For more information on procedures and treatments offered at Texas Surgical Dermatology PA please call 832.663.6566 or click here to contact our dermatologists. Helping patients in Houston, The Woodlands, Springs, Katy and other surrounding areas of T