Mohs Specialist | Mohs Surgeon | Houston | The Woodlands | Springs | Katy | Conroe

Mohs Micrographic Surgery
Developed by Dr Frederick Mohs in the late 1930s, Mohs surgery has become a gold standard for treating skin cancers, especially basal cell and squamous cell cancers. Mohs surgery differs from other options in that it achieves cancer removal, clear margins, and repair or reconstruction (if needed) all in one appointment and all by one physician- your Mohs surgeon. Benefits of Mohs surgery are many and include:
Reassurance. Mohs surgery has one of the best cure rates possible (up to 99%) when compared to other treatments. While other methods (e.g. Excision) examine less than 1% of the margins removed, Mohs Surgery evaluates virtually 100% of the tissue borders. This makes your skin cancer less likely to come back.
Preservation. Mohs surgery removes the entire skin cancer while saving the greatest amount of normal tissue. By preserving healthy tissue, Mohs surgery results in a smaller wound, which usually results in a smaller scar. This is essential especially if the skin cancer is on the face or other sensitive part of the body (scalp, fingers, etc).
Recovery. Mohs surgery is performed safely and completely under local anesthesia and in an office setting. There is no need to fast or stop any medications. You return home the same day and recover more quickly than if you had general anesthesia or intravenous sedation.
As a Mohs surgeon, Dr. Nguyen has several integrated roles: 1) removing the cancer tissue, 2) mapping the tissue precisely, 3) evaluating the margins completely under the microscope, 4) repairing or reconstructing the wound after all margins are clear of cancer.
Fellowship Training
Almost all Mohs surgeons are dermatologists. Not all Mohs surgeons, however, are fellowship trained. Fellowship trained Mohs surgeons devote an additional 1-2 years after Dermatology residency developing advanced skills in skin cancer, dermatopathology, and reconstructive surgery. Physicians who have completed a fellowship in Mohs surgery are members of the American College of Mohs Surgery (ACMS). Dr Nguyen completed his Mohs fellowship at the Mayo Clinic in 1998 and is a Fellow of the American College of Mohs Surgery (FACMS). He has served on its Board of Directors and is working with the ACMS to establish national standards of excellence for all fellowship trained Mohs surgeons.
Integration, Certainty
"The Mohs surgeon integrates the role of surgeon and pathologist, allowing us to accurately track and remove all tumor roots under the microscope, while saving as much healthy skin as possible. By being certain that all of your margins are clear of cancer, we can reconstruct your wound with confidence." Dr Tri H Nguyen
Mohs Surgery Process
Step 1: After confirming with you the skin cancer site and injecting local anesthesia, Dr Nguyen removes a thin layer of tissue around and underneath your skin cancer. This takes only a few minutes and a temporary dressing is placed. You may eat or drink at any time.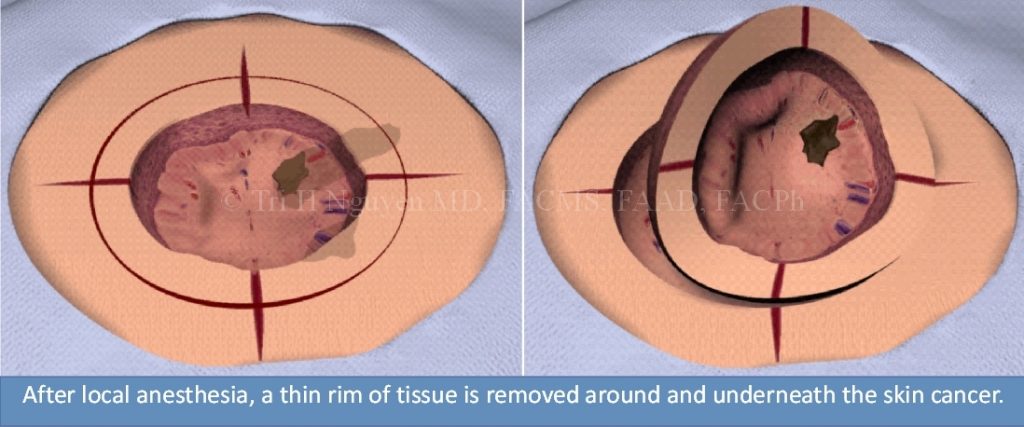 Step 2: Your cancer tissue is prepared onto slides. Dr Nguyen then examines your slides under the microscope for remaining skin cancer. This is the most time consuming step and may take 30-60 minutes for meticulous and complete evaluation of all the margins.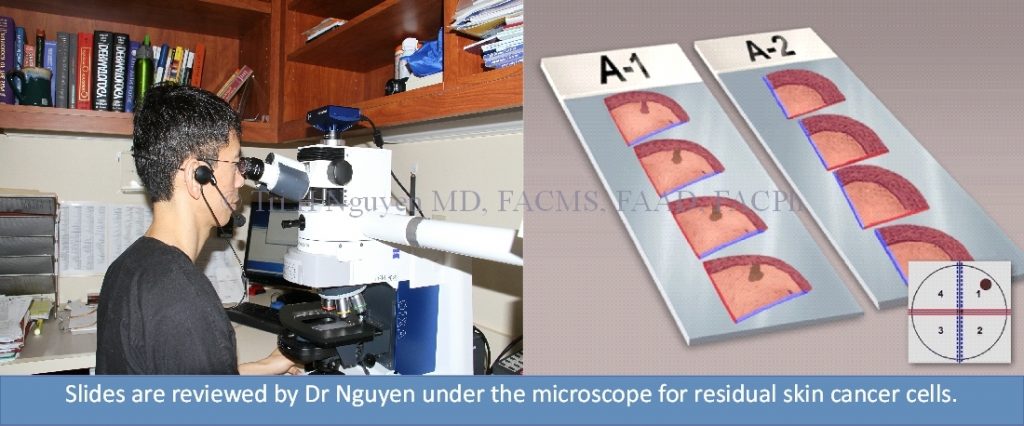 Step 3: If Dr Nguyen detects more cancer cells under the microscope, then another layer of tissue is removed but only where the cancer roots are present, saving as much healthy skin as possible.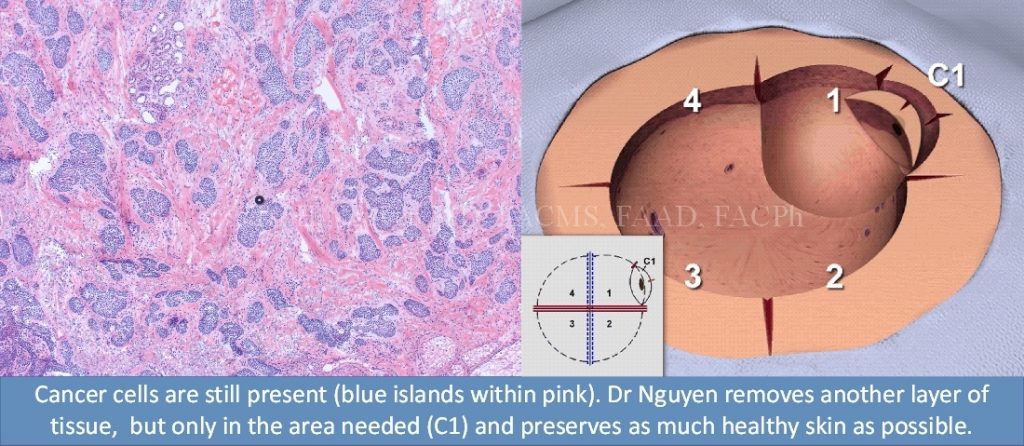 Local anesthesia is added at each step to keep you comfortable. Steps 1-3 are repeated until your skin tissue is clear of skin cancer. Once clear, Dr Nguyen will discuss with you the options of wound healing. Any repair is done on the same day in most cases and some activity restrictions apply for at least 1 week.
Example of cancer free wound after Mohs surgery, immediate repair, and one year result.

Remember that there are two parts to your care: 1) Mohs Surgery to clear the cancer (most important) and 2) Repair to heal the wound. Due to the comprehensiveness of this approach, your treatment may require most of the day. Plan for great care and success!
Indications for Mohs Surgery
Not all skin cancers need Mohs surgery. Many may be well treated with destruction techniques (freezing, scraping, lasers), excision (cutting out the cancer with wider safety margins), and even creams. Your skin cancer is best treated with Mohs Surgery if it has these features: Recurrent (tumors that have regrown after having had previous treatment),
on the head & neck (around temple, forehead, eyes, ears, nose, and lips), on fingers/toes, large size, poorly defined (lesion blends into surrounding skin without distinct, clear borders), high-risk or destructive based on biopsy (infiltrative, morpheaform, sclerosing, poorly differentiated basosquamous, perineural, deeply invasive, etc). Skin cancer patients with suppressed immunity (such as organ transplant patiens, patients on medications to suppress their immune system, patients with chronic lymphocytic leukemia (CLL), etc) may also qualify for Mohs Surgery.
For more patient information on Mohs surgery and skin cancer, please click on the following link: http://www.skincancermohssurgery.org/
Consultation: The best medical or surgical outcomes require advance planning. We highly recommend a consultation before your treatment to properly evaluate your condition and your individual needs. Your safety and successul treatment is our top priority. To schedule a consultation please email us at nursenguyen@tsd.com or call 832.663.6566 for an appointment.