Mohs Surgery | Mohs Specialist | Houston | The Woodlands | Springs | Katy
Treating your skin cancer with Mohs Surgery ensures you not only an optimal cure rate but also the smallest wound possible. Since many skin cancers occur on the face, closing or repairing the wound to minimize scarring is essential.
Reconstructive surgery is the art of restoring and rebuilding wounds to minimize scarring and maximize function. We do not just fill or cover a wound but sculpt and restore it to the highest cosmetic and functional standards. Each wound is different and each patient is different. We tailor our reconstructive approach to match the needs and interests of each patient. Please review our photo gallery to see the range of repair options following Mohs surgery.
The majority of all skin cancer wounds from Mohs surgery may be repaired on the same day, in the office, and under local anesthesia. Having your reconstructive surgery under local anesthesia is safer and more cost-effective. There is no need to fast and generally all medications may be continued, even blood thinners. Rarely, repairs may need to occur on another day or in a surgical center with another physician (less than 1% of cases).
Dr Nguyen is an expert in Mohs Surgery. He is well known for his skills in reconstructive surgery and scar revision. In addition to a popular textbook on reconstruction (Flaps and Grafts in Dermatologic Surgery), Dr Nguyen is frequently featured as an expert speaker on reconstructive surgery and surgical techniques.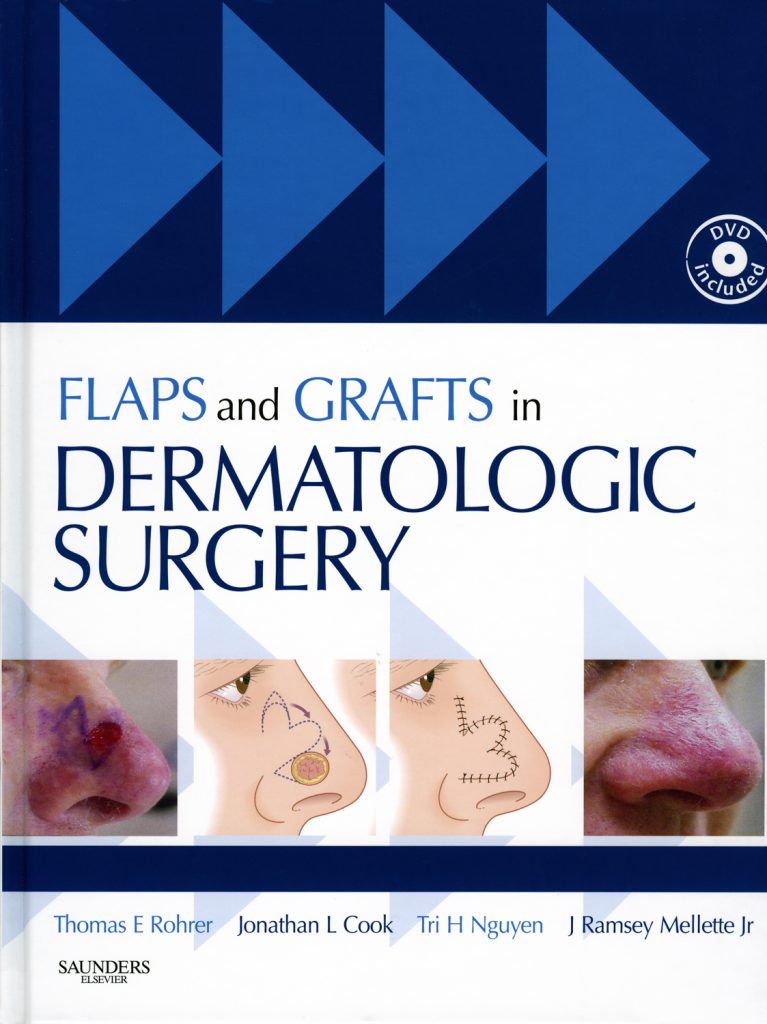 There are many options for wound healing after Mohs Surgery. These options include: 1) natural healing, 2) linear closures, 3) skin grafts, 4) single stage flaps, and 5) multi-staged flaps. Once a wound is repaired, time is the best medicine. Even when a wound is sealed, there is still active healing underneath for many more months. The scar will not mature until 12 months or more after surgery. Patience, following wound care instructions, not smoking, and avoiding stress on the wound are all critical to optimize your results.
Natural or Mother Nature Healing (Second Intention Healing)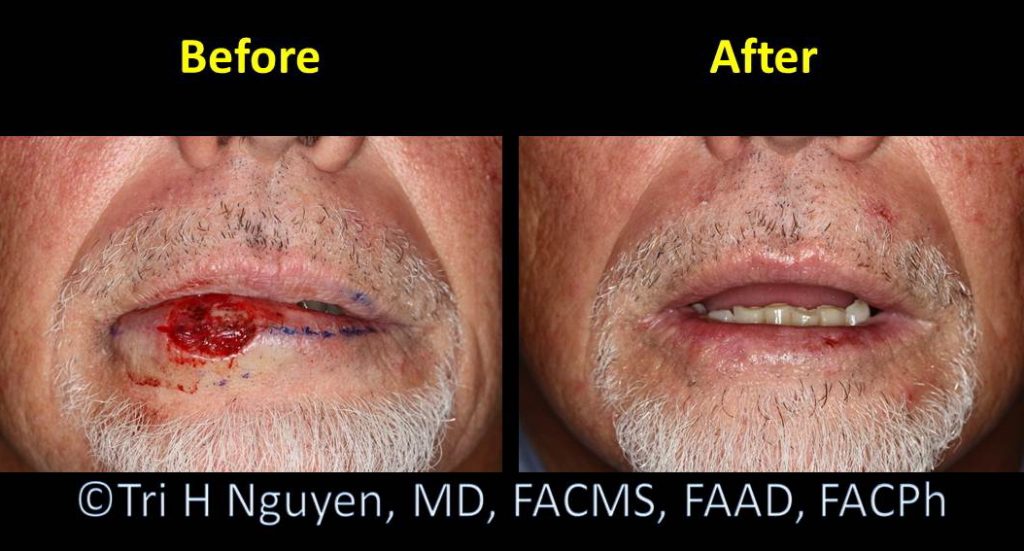 Natural healing is when you allow time for your own body to heal itself (Photo above: lip wound that healed by itself without stitches). There are no stitches and the wound slowly heals from the edges and its base. Natural healing can achieve exceptional results for wounds that are small, shallow, and lie in a flat or sunken contour. Advantages of natural healing include less pain, less infection, less surgery, and less activity restriction. Disadvantages include more risk of bleeding and more wound care for a longer period. Time to heal varies but ranges from 4-8 weeks.
Linear Closures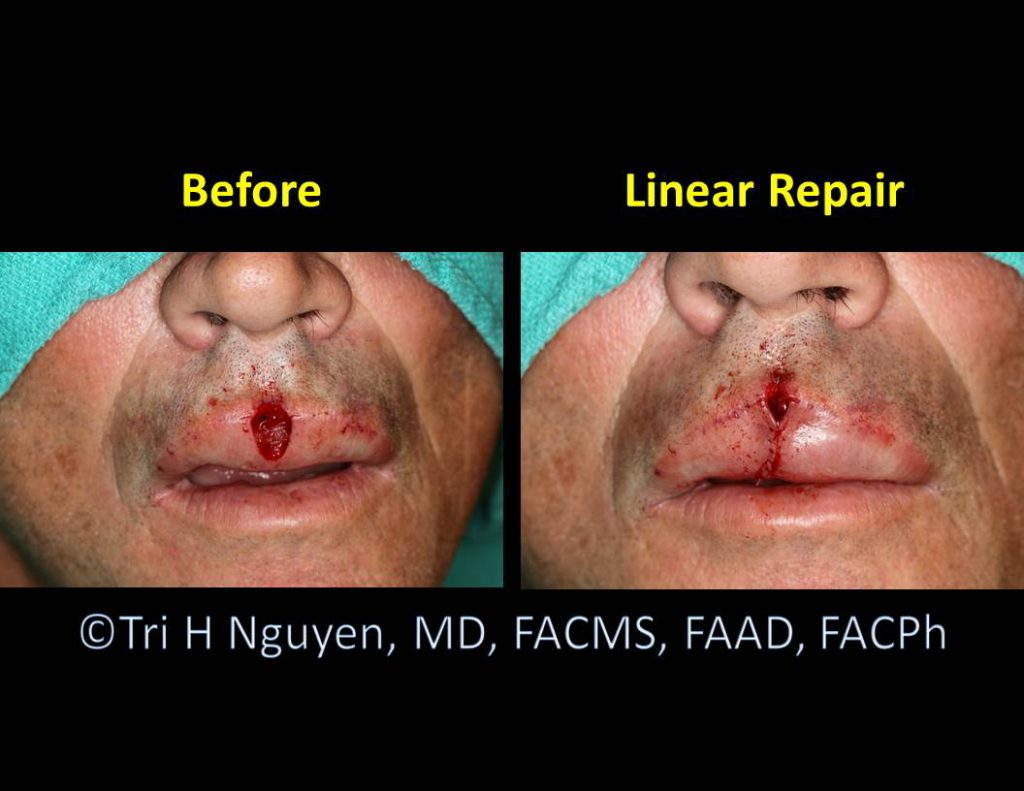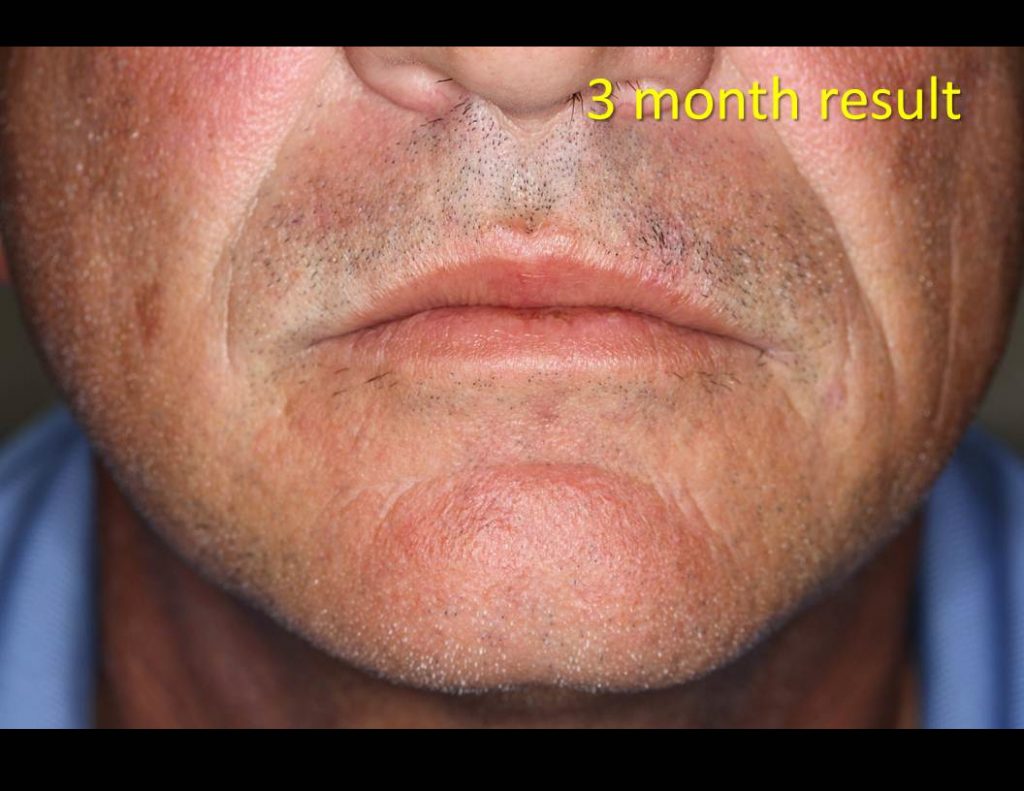 Linear closure is the side-to-side stitching of a wound to create a line scar. To close a circle, extra tissue on either ends of the circle is trimmed so that the suture line lies flat. Several layers of stitches are necessary to give strength to the wound. Linear closure is a good option if there is enough looseness to the surrounding skin.
Skin Grafts
Skin grafting is the removal of skin from one location on your body (Donor skin) and transferring it to a wound at another site (Recipient skin). Since the graft has no connected blood supply, it depends on the wound base to nourish it. Blood vessels from the recipient wound grows into the new graft. Grafted skin can look slightly different in color, texture, and thickness from its surroundings because it came from a different area. However, results may still be excellent if the donor site is chosen carefully to match the features of the wound. A minority of skin grafts benefit from dermabrasion (sanding of graft and surrounding skin for an even match) 3-6 months after surgery.
Flap Reconstruction
Flaps are used in reconstructive surgery when either natural healing, linear closures, or skin grafts may not be suitable. Flaps may either be done in one surgery (single stage) or in several separate surgeries (multistage). All flaps use geometric designs to tap into loose skin that may be nearby the wound. The flap movement shifts this loose skin into place to repair the wound. By design, flaps require more incisions and lifting of nearby skin for movement. As a result, there is more swelling, bruising, and discomfort after surgery. Multistage flaps are done in at least 2 phases. Phase One is when the flap tissue is lifted and inset into the wound. Phase Two occurs 3 weeks later when the flap connection is divided and sculpted. For certain wounds (deep, extensive, complex), only flaps will achieve the twin goals of beauty and function.
Examples of Single Stage Flaps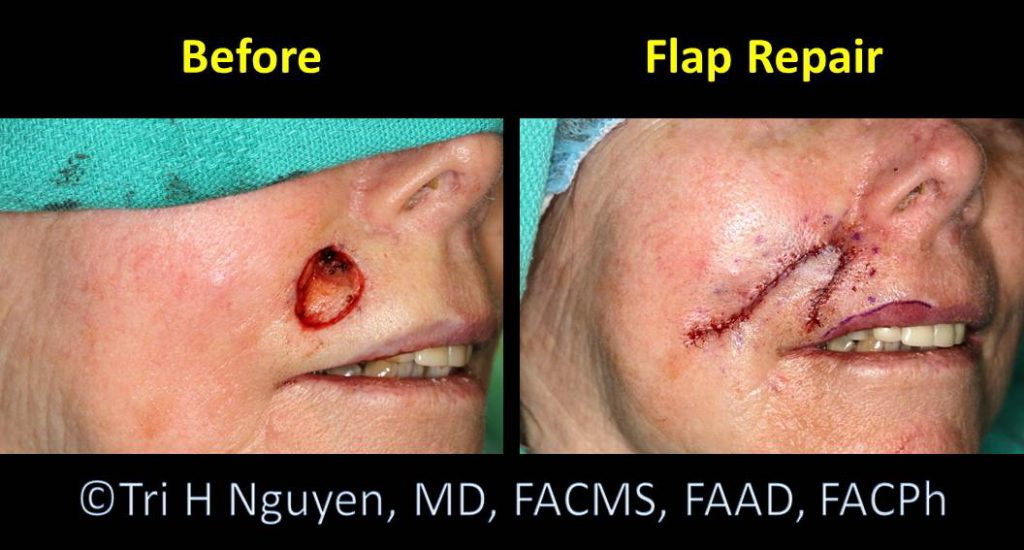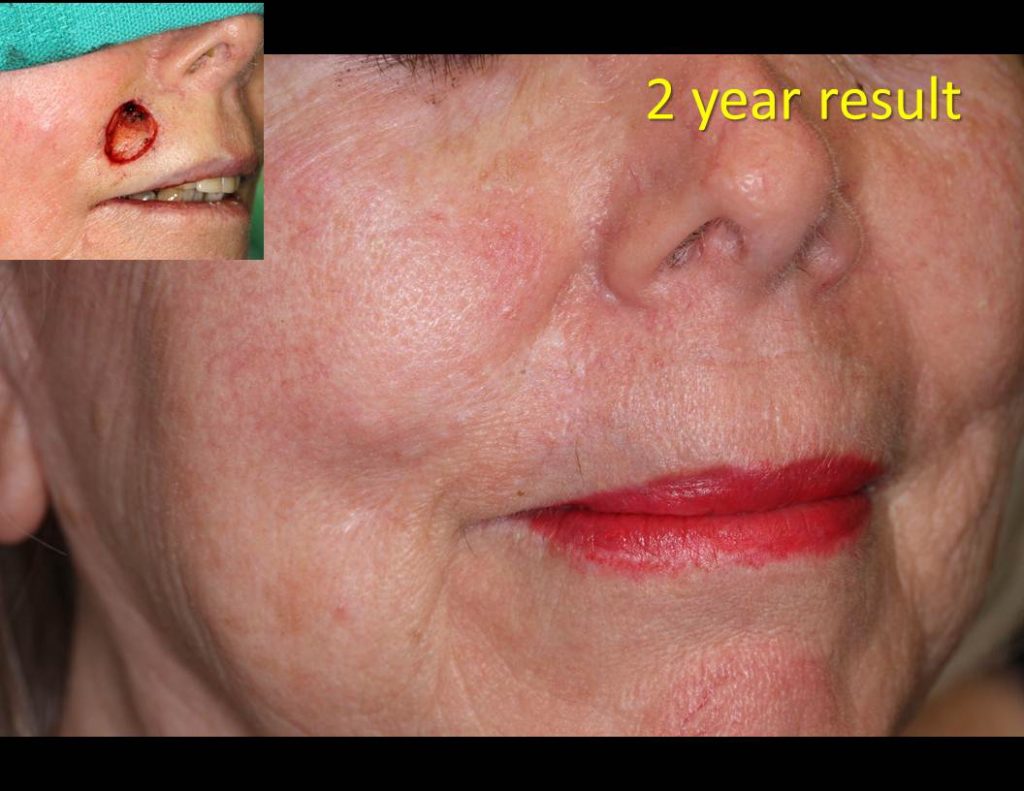 Examples of Multistage Flaps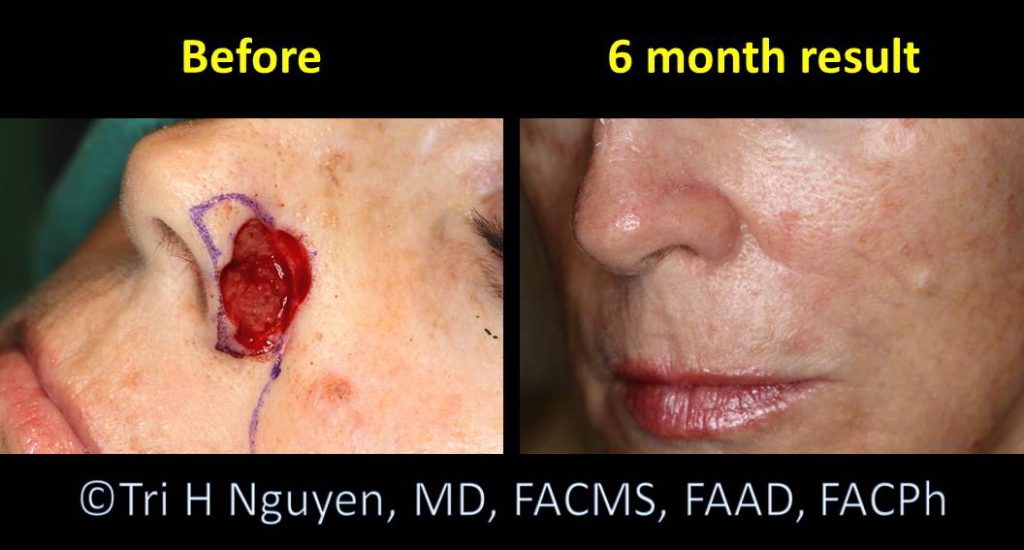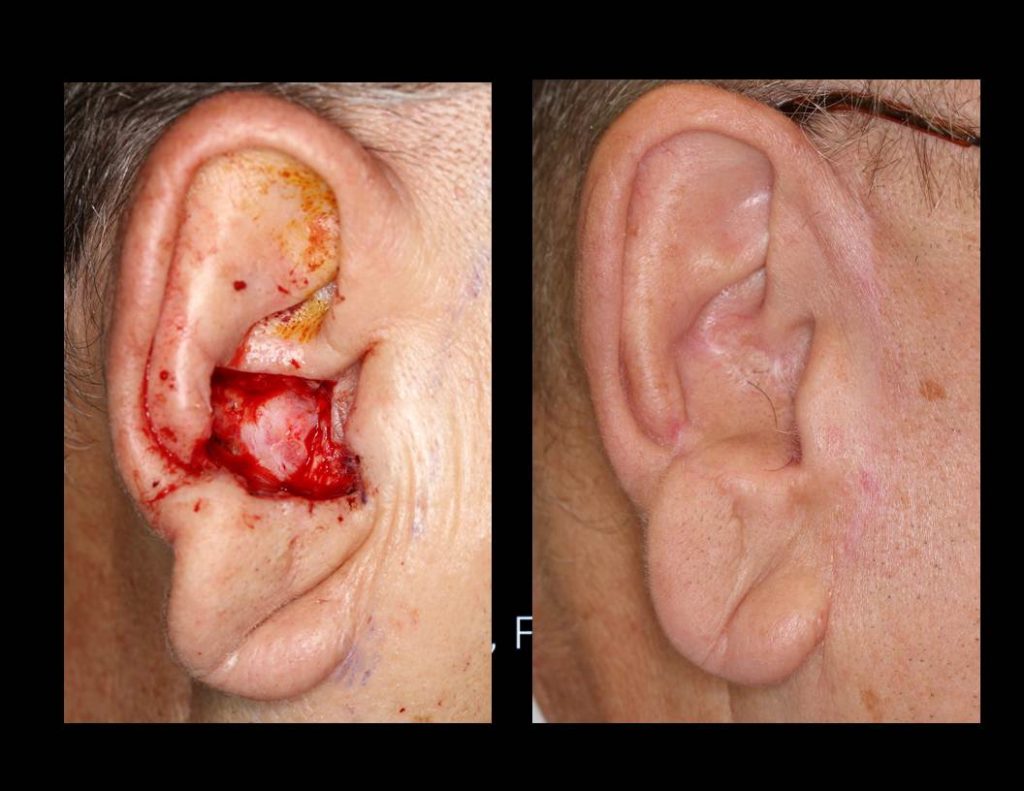 Consultation: The best medical or surgical outcomes require advance planning. We highly recommend a consultation before your treatment to properly evaluate your condition and your individual needs. Your safety and successful treatment is our top priority. To schedule a consultation please email us at nursenguyen@nwdc.com or call 281-943-6640 for an appointment.