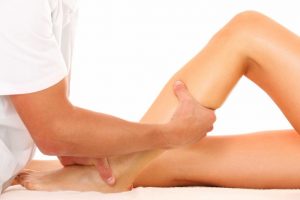 Ambulatory phlebectomy refers to an outpatient procedure in which a dermatologic surgeon eliminates superficial veins through small, slit-like incisions in the skin.
Reliable Texas Surgical Dermatology, led by kind board certified dermatologists Dr. Tri H. Nguyen and Dr. George G. Hughes III, provides vein treatments to patients in Houston, Katy, Spring, The Woodlands, Texas, and other cities and suburbs across the landscape.
Before considering Ambulatory Phlebectomy
Prior to the procedure, a dermatologist will typically review the patient's health history and perform a physical examination. The doctor will assess the following:
Are the varicose veins the primary issue, or are they connected to other veins that may require treatment initially?

Are there clots in the deep or superficial veins that may require treatment?

Does the patient require other procedures along with ambulatory phlebectomy?
This procedure may be unsuitable for patients who cannot walk on their own or wear compression hoses.
Procedure
In general, this relatively minor surgery is performed simultaneously with laser or radiofrequency ablation. In this method, the surgeon will first make small incisions that rarely need sutures to heal.
Subsequently, they will extract the bulging vein through these small incisions and then place a band-aid over the incision. After that, the surgeon will apply a compression bandage to the site. Similar to other methods, the body will naturally redirect the blood flow to healthier veins.
When to Use Ambulatory Phlebectomy
This procedure can treat varicose veins and tributary veins off the main great or small saphenous vein. Ambulatory phlebectomy is frequently performed for below knee varices. The saphenous nerve is near the saphenous vein in the calf. This nerve moves away from the vein in the mid-calf area.
Some temporary numbness can occur due to damage to the saphenous nerve. To avoid nerve injury, surgeons often perform phlebectomies or ultrasound-guided foam sclerotherapy as an adjunct to endovenous ablation. On top of this, phlebectomies are frequently used to address torturous veins on the lateral aspect or side anterior of the thigh.
Results
Patients attain long-term success in almost 90 percent of the cases. But new varicose veins may develop subsequently in various locations, as with any treatment. Certain patients may experience some tenderness over a treated vein because of trapping of blood. The trapped blood can be removed in-office under local anesthesia.
Post-Treatment Measures for Vein Health
The patient should exercise, maintain healthy body weight, and not stand or sit for extended periods to maintain vein health. They should also consult their doctor upon noticing any new veins or in case their condition is not improving.
Risks associated with Ambulatory Phlebectomy
Temporary bruising and inflammation.

Skin numbness because of injury to adjacent sensory nerves.

Swelling due to by small segments of the vein that remain within the skin.

Allergic response to local anesthesia.
Recovery
Immediately after the surgery, patients can walk and resume their routine activities. The dermatologist will ask the patient to wear graduated compression stockings. It is normal to have transient bruising and inflammation in the treated area. Pain is typically minimal if the patient wears the graduated compression stocking.
Board certified dermatologists Dr. Nguyen and Dr. Hughes receive patients from Houston, Katy, Spring, The Woodlands, Texas, and nearby areas for vein treatment.