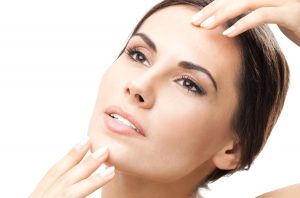 The appearance of fine lines and wrinkles on the face can make a person look older and tired. These signs of facial aging may occur as the skin volume gets depleted and the skin becomes thinner and tends to sag. One of the most popular non-surgical dermatology treatments to address these aging signs is dermal filler injections.
A range of FDA approved dermal fillers can be used to replenish facial volume in targeted areas to fill the wrinkles and lines and restore a smoother, younger looking face. Board certified dermatologists Dr. Tri H. Nguyen and Dr. George G. Hughes III provide these injectable fillers to patients in Houston, Katy, Spring, The Woodlands, Texas, and surrounding locations.
Juvederm
Juvederm ranks among the most popular dermal filler injections today. The filler is produced by Allergan, the leading maker of cosmetic anti-aging solutions such as Botox. Juvederm is based on hyaluronic acid, which is a biocompatible ingredient found naturally in the body. It performs the function of providing support to the skin structure and creating firm and tight skin.
Juvederm is, in fact, the first hyaluronic acid based facial filler to have earned the approval of the FDA. No prior allergy tests for the skin are required for this filler. The biodegradable Juvederm gel can be injected smoothly into the targeted skin layers to add instant volume to the face. Results with Juvederm anti-aging can last for up to one year. Smoother and fuller skin results in fading away of facial lines and wrinkles with a single dermatology treatment lasting just a few minutes.
Restylane
Restylane group of cosmetic fillers is also based on hyaluronic acid, and designed to mitigate the appearance of facial fine lines and wrinkles. Restylane can perform a similar role as Juvederm, but can also be used effectively for more sensitive skin areas such as under the eyes and around the lips. Restylane enjoys an exceptional safety record, with more than 10 million treatments used in 65 countries.
Significant laugh lines as well as fine lines around the mouth are commonly treated with Restylane filler injections. It can help to reduce under-eye sagging, augment a recessive chin or under-projected cheekbones, and enhance facial contours. As a lip filler, Restylane can effective improve the definition and shape of the lips.
Radiesse
Radiesse is a more advanced dermal filler, which includes microspheres of a calcium compound found naturally in the bones. Radiesse can volumize depleted areas of the skin for a sustainable time period, leading to reduction in the appearance of deep wrinkles and fine lines on the face. The results last longer than most other fillers because of the relatively slower re-absorption of Radiesse gel.
Radiesse filler acts as a scaffold to support the underlying skin structures, while promoting the production of new collagen fibers in the deeper skin layers. This process helps to create longer lasting outcomes. Board certified dermatologists Dr. Nguyen and Dr. Hughes receive patients from Houston, Katy, Spring, The Woodlands, Texas, and nearby areas for Radiesse.
For more information on procedures and treatments offered at Texas Surgical Dermatology PA please call 832.663.6566 or click here to contact our dermatologists. Helping patients in Houston, The Woodlands, Springs, Katy and other surrounding areas of Texas.