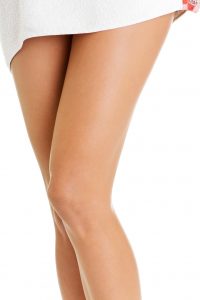 Sclerotherapy is the most common dermatology treatment to remove spider veins and minor varicose veins. The procedure is completely non-surgical and ranks among the more affordable treatment options for spider veins. At the time of initial consultation, the treatment provider will educate the patient about spider vein treatment and discuss its estimate costs.
The provider's first concern will be to ensure that the patient has all the relevant information about the spider vein treatment, and is in a position to make a well-considered decision. The patient should ask questions pertaining to costs and other aspects, and make their choice after considering all options. Board certified dermatologist Dr. Tri H. Nguyen and Dr. George Hughes III provide spider vein treatments to patients in Houston, Katy, Spring, The Woodlands, Texas, and other communities across the region.
Comparing the Costs
In comparison to surgery or other techniques for vein removal, sclerotherapy injectable treatment is simpler and usually more cost-effective. While a surgery will typically involve the costs of anesthesia, operating room expenses, as well as pre- and post-treatment costs such as medical tests, prescription drugs, and follow-up appointments with the treatment provider, all these financial factors are avoided in case of sclerotherapy.
In many cases, other advanced dermatology treatments involving lasers, ultrasound or radio frequency technologies may also prove to be more expensive than sclerotherapy. Therefore, many providers recommend sclerotherapy as a time-tested and cost-competitive procedure to treat spider veins.
Factors Impacting the Cost
The sticker price of spider vein treatment can differ between two practices and even between two patients at the same practice in some cases. Where the practice is located will make an important difference to the costs. Practices located in major metropolitan areas or prime urban centers will usually have higher costs due to their higher costs of living as compared to smaller towns in interior regions.
The range of treatment facilities, availability of experienced and fully trained staff, the level of personalized care and service offered at a practice will have an impact on the overall cost. These elements contribute to the final outcome of the treatment, and patients should make their decision judiciously with regard to the choice of a practice for spider vein treatment.
Whether the spider vein treatment is offered by an experienced, board certified dermatologist, or a less qualified skin care treatment provider, is another vital aspect to consider. Patients should ideally choose the best possible provider to achieve safe and desired results. The fee charged by a provider may vary according to their expertise and professional credentials.
Extent of Treatment
Two patients may be charged differently for spider vein treatment at the same practice, depending on the extent of spider veins and the number of treatment sessions involved. In a few cases, the stubborn veins may have to be re-treated or the procedure may have to be combined with another technique, which can influence the final cost.
Committed and sagacious dermatologists Dr. Nguyen and Dr. Hughes receive patients from Houston, Katy, Spring, The Woodlands, Texas, and other neighborhoods across the landscape for spider vein treatments.
For more information on procedures and treatments offered at Texas Surgical Dermatology PA please call 832.663.6566 or click here to contact our dermatologists. Helping patients in Houston, The Woodlands, Springs, Katy and other surrounding areas of T