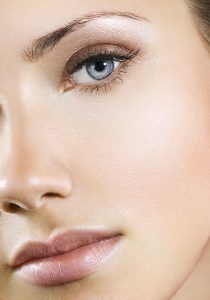 Medium chemical peels are a non-surgical cosmetic dermatology procedure to improve the skin tone and texture, address uneven pigmentation, smooth out minor aging lines, and correct certain types of acne scars.
Medium peels are typically based on trichloroacetic acid (TCA), which creates more dramatic outcomes than light peels, but without the prolonged recovery involved in deep peels.
Medium chemical peels are commonly used for the face, but they can effectively treat any area of the body. The procedure can be completed in-office and takes only minutes to complete. Board certified dermatologists Dr. Tri H. Nguyen and Dr. George Hughes III provide medium chemical peels to patients in Houston, Katy, Spring, The Woodlands, Texas, and other cities and neighborhoods in this part of The Lone Star State.
How does it Work?
Medium peels penetrate the skin relatively deeper than light peels. While administering a medium peel, the treatment provider will apply a solution of TCA to the affected areas of the skin. This chemical solution will be custom formulated according to the unique skin requirements of a patient. It will work by gently removing the damaged, dull outermost layers of the skin, which have been impacted by fine lines, acne, environmental exposure and other elements.
In about one week of this dermatology treatment, the dead skin layers will slough off, revealing a new, smooth layer of skin. TCA peels are popular because the procedure can be completed in as little as 15 minutes, and can be applied on any part of the body. To achieve optimal outcomes, a patient would ideally need to complete a series of prescribed treatments.
Each treatment should be performed with a gap of about two to three months, and a single treatment session may last from 15 to 60 minutes, depending on the patient's specific needs. Some patients may require mild sedation, but local anesthesia is typically not required.
Candidacy
Medium chemical peels are more suited for people who want to address fine lines and minor wrinkles, uneven pigmentation including sunspots, superficial scars and blemishes, and dark circles under the eyes. Candidates who are looking to achieve results beyond what is possible with a light chemical peel, and yet avoid the extended healing process of a deep peel, can benefit the most with the middle-of-the-road approach of medium peels.
TCA Concentration
The active ingredient in a medium chemical peel is TCA. It is possible to adjust the degree and depth to which the TCA penetrates the skin as well as the TCA concentration in the chemical peel solution. Some patients may only need a 15 percent concentration while some others may require a 50 percent concentration for a slightly deeper penetration.
Results
After the medium peel treatment, a superficial crust will form over the treated area. The crust will begin to flake off in three to seven days. It will reveal new skin, which may initially appear reddish, but within a week the discoloration will completely fade.
The new skin will show a significantly improved color, texture, and overall appearance. Judicious and innovative board certified dermatologists Dr. Nguyen and Dr. Hughes receive patients from Houston, Katy, Spring, The Woodlands, Texas, and nearby areas for medium peels.
For more information on procedures and treatments offered at Texas Surgical Dermatology PA please call 832.663.6566 or click here to contact our dermatologists. Helping patients in Houston, The Woodlands, Springs, Katy and other surrounding areas of Texas.