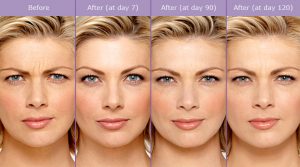 Among all the non-surgical facial rejuvenation dermatology procedures available today, Botox is the most popular. With a simple in-office injectable procedure that requires just one session of about 20 minutes, Botox can create a smoother, more youthful looking face. Results with Botox are temporary, but its advantages outweigh its limitations for most people.
The patients have a choice to repeat Botox treatments in future under the guidance of a certified Botox provider. This allows them to enjoy extended results, even though a single Botox treatment will only produce results that last for a few months. Dr. Tri H Nugyen and Dr. George Hughes III are board certified dermatologists providing Botox to patients in Houston, Katy, Spring, The Woodlands, Texas, and other suburbs and cities in this part of the fabulous Lone Star State.
Sustainability of Botox
On average, the results with Botox cosmetic injections for a first-time patient are expected to last for about three to four months. Botox contains botulinum toxin type A, which is a highly potent neurotoxin designed to relax the overactive wrinkle forming muscles and smoothing the facial skin. The strength of this neurotoxin diminishes progressively, and as a result the muscle regains its activity within a few months and wrinkles reappear.
But patients who choose to undergo repeated Botox cosmetic dermatology treatments over a prolonged period of time under the supervision of a qualified Botox provider, results tend to become more sustainable. With continued use of Botox, the dynamic facial muscles become trained to stay more relaxed. This allows for less prominent aging lines, creating longer lasting results.
People who use Botox treatments periodically as directed by the specialist will gradually have a longer gap between two treatments. The total number of treatments over an extended time period will reduce. Board certified dermatologists Dr. Nguyen and Dr. Hughes receive patients from Houston, Katy, Spring, The Woodlands, Texas, and nearby areas for Botox injections.
Variations in Longevity
The longevity of Botox results can differ between two patients. More conspicuous frown lines will typically occur in people who have strong or robust facial muscles. In such cases, the activity of the wrinkle forming muscle will be restored faster once the effect of Botox neurotoxin begins to diminish. This may happen because of the better resilience of the underlying dynamic muscle.
On the other hand, if the wrinkle-forming facial muscles are weak, the patient may be able to enjoy the results of Botox for an extended time period. Men usually experience a shorter sustainability of Botox results than women because men are likely to have stronger facial muscles.
Repeat Treatments
If the patient plans to have repeat treatments, they should track when the movement of facial muscles seems to return to its regular motion. Alternatively, they may periodically visit the dermatologist's office for a review. The patient must clearly inform the provider about when they last received Botox injections.
It is vital to maintain a certain minimum gap between two Botox treatments as recommended by the Botox professional. How much volume of Botox has been administered in a treatment session will also impact the longevity of results.
For more information on procedures and treatments offered at Texas Surgical Dermatology PA please call 832.663.6566 or click here to contact our dermatologists. Helping patients in Houston, The Woodlands, Springs, Katy and other surrounding areas of Texas.