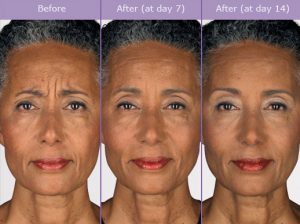 Botox is the number one non-surgical cosmetic dermatology procedure in the US today. People with mild to moderate fine lines and wrinkles on the face can benefit from Botox and achieve a youthful facial appearance for a temporary period. The active ingredient in Botox is botulinum toxin type A, which is a powerful biological agent with serious potential risks.
Therefore, it is important to select the right candidate who can significantly benefit from Botox injections. A committed Botox provider will first evaluate the patient's candidacy for Botox injections in order to ensure safe and predictable outcomes. Sometimes they may recommend Botox in combination with another procedure such as dermal fillers to meet the unique cosmetic goals of the patient.
Remarkable and astute board certified dermatologists Dr. Tri H. Nguyen and Dr. George Hughes III provide Botox injections to patients in Houston, Katy, Spring, The Woodlands, Texas, and surrounding communities.
Candidacy
People in the age group of 18 to 65 who have a fairly good general health condition and no medical history of neuromuscular problems will typically make good candidates for Botox. The candidate should have a need to mitigate or eliminate mild to moderate facial signs of aging from specific areas with Botox, while recognizing the potential risks of this procedure.
If the candidate wants to avoid cosmetic surgery, they will often achieve high satisfaction levels from Botox dermatology procedure, even though its results last for a limited time span. The candidate can repeat the treatment in the future for extended cosmetic benefits. Busy mothers and working people usually prefer Botox because it involves minimal to no downtime and much reduced risk of complications compared to surgery.
Younger Candidates
Nowadays a number of people in younger age groups also seek Botox injections as they want to delay the onset of obvious signs of facial aging. Some younger people now choose to receive Botox treatment a few weeks prior to a social event such as a wedding, which allows them to have a youthful facial look during that particular time period.
If the younger patient suffers from sagging facial skin and deep creases or folds due to genetic reasons, they should probably choose dermal fillers instead of Botox. Botox injections are more effective in treating dynamic facial wrinkles that occur due to overactive underlying muscles, and not due to loss of facial volume or tissue laxity.  
An ideal Botox candidate will have a positive mindset, clear goals and realistic expectations. They should know that Botox cannot produce as dramatic or long-lasting results as a facial surgery, and should instead focus on the natural looking and subtle effects that can be produced with Botox.
Who is not a Candidate?
People who are allergic to an ingredient of Botox or those who have previously suffered from side effects of Botox may not make good candidates. People with muscle or nerve related issues, pregnant or nursing women, and individuals with a skin infection in the injection site should also avoid Botox.
Board certified dermatologists Dr. Nguyen and Dr. Hughes receive patients from Houston, Katy, Spring, The Woodlands, Texas and cities and towns in this part of the mighty state of Texas for Botox.
For more information on procedures and treatments offered at Texas Surgical Dermatology PA please call 832.663.6566 or click here to contact our dermatologists. Helping patients in Houston, The Woodlands, Springs, Katy and other surrounding areas of Texas.