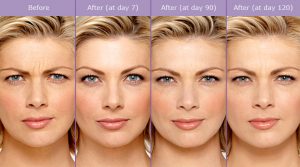 Ever since the FDA approved Botox in 2002 for the cosmetic reduction of fine lines in certain areas of the face, this non-surgical dermatology treatment has continued to be the world's most popular aesthetic procedure. One of the key advantages of Botox is that it can be performed in-office in a few minutes, and involves minimal to no downtime or recovery.
During the initial Botox consultation, the injection provider will educate the patient about all aspects of the Botox treatment. Busy moms and working people particularly choose Botox because it involves no specific recovery time. Board certified dermatologists Dr. Tri H. Nugyen and Dr. George Hughes III provide Botox injections to patients in Houston, Katy, Spring, The Woodlands, Texas, and surrounding locations.
'Lunch Time' Procedure
Botox injections should only be administered by a certified Botox provider to ensure desirable and expected outcomes. As long as the injections are performed by an expert, it will only take about 15 to 20 minutes on average to complete the Botox treatment. No specific pre-treatment preparation or post-treatment care may be necessary.
A single treatment session is usually sufficient to achieve the desired results with Botox. It is popularly termed as a 'lunch-time' dermatology procedure because working people may even make a Botox appointment during their lunch hour from work, and simply return to their workplace after the treatment session is over.
The Botox provider will advise the patient to avoid lying down for about four hours after the injections. Within this time period, the Botox medication will evenly spread to the targeted areas. The patient should refrain from rubbing or massaging the injection site for about 12 hours, and not perform any strenuous exercises for a day. Apart from these basic precautions, they can carry on with their normal routine at their home or workplace.
Temporary Side Effects
Botox procedure is performed without any cuts or incisions, but the injections may cause minor bruising, swelling or redness in the treated sites. A few patients may experience a minor headache for a while.
Most patients will not require any specific treatment for the side effects, and these effects will resolve in about two to three days. A day after the treatment, the patient is usually permitted to use makeup to hide any traces of bruising and swelling caused by the needles.
The provider will require the patient to avoid vigorous exercises and workouts for one to two days after the Botox treatment. The patient should also avoid taking blood thinners such as aspirin for about two to three days before and after Botox injections.
Results
Results will become immediately noticeable after the procedure. Over a period of one week, the full results of Botox will be established as the bruising and swelling completely subsides. Results will often last for about three to four months after Botox treatment, and the treatment can be repeated in future. Board certified dermatologists Dr. Nguyen and Dr. Hughes receive patients from Houston, Katy, Spring, The Woodlands, Texas, and communities and cities in this part of the country for Botox.
For more information on procedures and treatments offered at Texas Surgical Dermatology PA please call 832.663.6566 or click here to contact our dermatologists. Helping patients in Houston, The Woodlands, Springs, Katy and other surrounding areas of Texas.