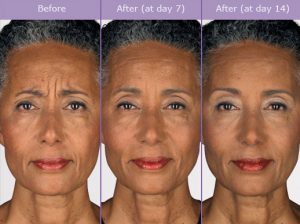 Botox is a non-surgical cosmetic dermatology procedure designed to diminish or erase facial fine lines and minor wrinkles in specific areas of the face. During the initial consultation, the injection provider will educate the patient about all aspects of Botox and may also present Botox before and after photographs.
The first concern of the provider will be to help the patient make an objective and informed choice. Providing the patient with access to before and after pictures increases transparency in the process and lets the patient gain a correct understanding of Botox treatment.
Board certified dermatologists Dr. Tri H Nguyen and Dr. George Hughes III provide Botox injections to patients in Houston, Katy, Spring, The Woodlands, Texas, and surrounding locations in this area of the country.
What are Botox Before and After Images?
Before and after images in case of Botox refer to a pair or group of pictures pertaining to a previous patient who has received the same injectable procedure with satisfactory results. The images include pictures taken prior to the treatment and after the treatment at a stage when the initial redness and swelling in the injection sites has subsided and full effects of botulinum toxin have been established.
The dermatology treatment provider will ensure that the photographs are obtained with the full consent of the patient and presented before new patients in an appropriate manner. The patient's identity may be kept confidential as per the standard protocol.
The provider's sole purpose in this exercise is to utilize before and after photos as a visual tool to explain to new patients about the potential effectiveness of Botox injections.
Benefits
Although Botox is the most popular non-surgical anti-aging facial procedure, patients do have a wide range of treatment options for facial rejuvenation available today. They may like to compare the potential results of Botox with other treatments, or may want to ensure that Botox can actually meet their specific aesthetic goals and needs.
Some patients may only need Botox to reduce wrinkles between the brows, on the forehead and around the outer end of the eyes. On the other hand, some other patients may also want to apply the non-label uses of Botox, or may want to combine Botox with dermal fillers or another non-surgical procedure. In each case, the patient is in a position to make better decisions when they have access to Botox before and after photos.
This will be mentioned below but it cannot be emphasized enough. Digital technology has altered this landscape. Industries across the world have embraced digital technology and certainly so has the plastic surgery industry. With this incredible breakthrough, anyone can see exactly what to expect for so many types of services and Botox is certainly one of them.
Dr. Tri H Nguyen and Dr. George Hughes III's website offers salient pictures so anyone can grasp what they are contemplating. This critical decision can be made without notifying anybody. A patient can make this decision in the comfort of their own home or with someone they care about the most.
Realistic Expectations
Botox is not a facial volumizing procedure, and it cannot improve static creases, folds or depressions in the face. Patients should have a clear idea of what to expect and what not to expect from Botox results. The dermatologist can achieve this goal with the help of Botox before and after photos, which they may prefer to present at the very outset.
Photos on the Website
The treatment provider has disseminated Botox before and after photos via their website as well as social media networks which has been mentioned. These pictures offer a firm grasp on what to expect. Adroit and stellar board certified dermatologists Dr. Nguyen and Dr. Hughes receive patients from Houston, Katy, Spring, The Woodlands, Texas, and other cities and suburbs in this part of the southwest for Botox injections.
For more information on procedures and treatments offered at Texas Surgical Dermatology PA please call 832.663.6566 or click here to contact our dermatologists. Helping patients in Houston, The Woodlands, Springs, Katy and other surrounding areas of Texas.