Restylane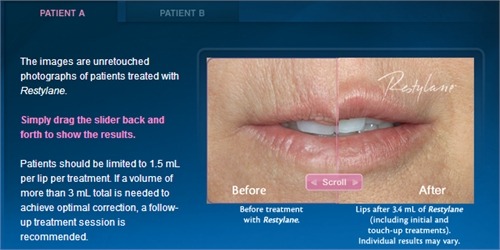 Restylane is a safe and proven, FDA approved injectable treatment designed to mitigate facial wrinkles and alleviate the effects of aging.
A Restylane filler injection is composed of clear hyaluronic acid-based gel, which fills in lines and wrinkles in the face and adds moisture and lubrication to the facial skin, making it feel more youthful and supple.
Texas Surgical Dermatology, led by board certified dermatologists Dr. Tri H. Nguyen and Dr. George G. Hughes III, provides Restylane dermal filler to patients in Houston, Katy, Spring, The Woodlands, Texas, and surrounding communities across the horizon.
Candidacy for Restylane
Restylane anti-aging treatment requires only a few injections and does not involve any incisions or removal of tissue. Therefore, the risk of complications is low.
This means almost anyone who wants to reduce the prominence of their facial wrinkles and lines might a good candidate for Restylane. Those allergic to animal-based fillers can safely use Restylane because it contains hyaluronic acid, which is biocompatible.
General Candidacy Requirements
It is rare for a potential candidate to be excluded from Restylane dermatology treatment for medical reasons. Furthermore, patients who cannot use other fillers that contain bird proteins can receive Restylane injections without any risk of allergic reaction.
It is generally a good idea for a candidate to wait until after the age of 18 to undergo Restylane injectable treatment because the structure of the face continues to change throughout adolescence.
Qualified patients should have a clear understanding of the possibilities and limitations of Restylane therapy, along with knowledge of the risks associated with Restylane. Those who can meet these requirements and have visible facial wrinkles they would like to see diminished could be good candidates for the procedure.
Medical and Health Considerations
Restylane injection is a safe cosmetic procedure, but there are still medical considerations that must be taken into account. In rare cases, an individual may have allergy to the bacterial protein elements in the gel. Restylane filler treatment may not be a good solution for these people.
There is also an extremely small risk of contracting an animal-borne infection from the treatment. Therefore, women who are pregnant or nursing should not use Restylane.
Areas Treated with Restylane
Virtually any part of the face can be treated with one of the different types of Restylane dermal fillers. Facial creases, folds, and wrinkles can all be lessened with Restylane injectable treatment. Smile lines and fine mouth lines are among the popular target sites for these injections.
Candidates who are unhappy with the sagging look under the eyes, under-projected cheekbones, and a recessive chin are often treated successfully with this advanced hyaluronic acid formula.
Choosing the Right Restylane Product
Different people may be candidates for different forms of Restylane, even though all of them contain the same chemical compound. The products differ in terms of their particle size.
Smaller ones are designed to eliminate fine wrinkles and larger ones work to soften deeper creases. Successful and committed dermatologists Dr. Nguyen and Dr. Hughes receive patients from Houston, Katy, Spring, The Woodlands, Texas, and other towns and cities in this magnificent state for Restylane.
For more information on procedures and treatments offered at Texas Surgical Dermatology PA please call 832.663.6566 or click here to contact our dermatologists. Helping patients in Houston, The Woodlands, Springs, Katy and other surrounding areas of Texas.