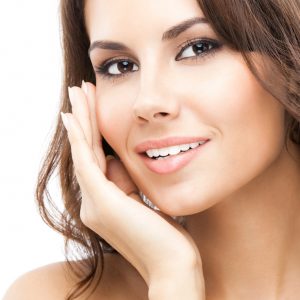 Juvederm is one of the most popular FDA approved dermal fillers treatments to improve the facial signs of aging in a non-surgical way. Juvederm dermatology treatment addresses the cosmetic needs of patients who want to minimize the appearance of wrinkles, creases, and fine lines from their face in a subtle and natural looking way.
Juvederm injectable filler is delivered directly into the targeted sites using a fine needle. Juvederm gel will make the skin plumper and fuller as the gel gets deposited in the deeper tissue. Depleted areas of the skin will be volummized and wrinkles and creases will be smoothed.
Perspicacious and board certified dermatologists Dr. Tri H. Nguyen and Dr. George Hughes III of Texas Surgical Dermatology provide Juvederm injections to patients in Houston, Katy, Spring, The Woodlands, Texas, and surrounding communities.
Hyaluronic Acid Based Filler
One of the key elements of Juvederm filler is that it is produced from hyaluronic acid, which is a naturally occurring substance in the human skin. Unlike animal-based fillers, Juvederm is biocompatible and completely safe. No specific allergy tests are necessary prior to a Juvederm dermatology treatment.
Hyaluronic acid has a natural property to hold the skin structure together and replenish skin volume. When the facial tissue tends to experience loss of volume due to aging or other factors, an injectable treatment of hyaluronic acid-based Juvederm filler can restore the volume almost instantly. This allows for smoothing of wrinkles and facial lines in a natural-looking way. The treatment can also be used for sensitive areas and can enhance lip definition.
Cosmetic Benefits
Juvederm injections can restore natural facial contour, smooth unwanted lines and wrinkles, and enhance lips to provide a more youthful looking face. According to the manufacturer, Juvederm treatment can be used for the following purposes:
Reduce nasolabial folds and smooth lines around the nose and mouth.

Augment the size and enhance the shape of lips.

Reduce the appearance of smile lines.

Minimize crow's feet around the eyes.

Restore volume to the cheeks to provide a fuller facial profile.
Static facial lines that are visible even when the face is still and without expression can be treated most effectively with Juvederm.
Advantages
Juvederm injections can be performed as an in-office procedure without the need for anesthesia or sedation. The treatment avoids all the risks and side effects typically associated with surgery. Minimal to no discomfort or downtime is involved, and results are visible quickly. Most people will only require a single treatment session of Juvederm, which will last between 15 to 30 minutes.
Working people and busy moms are ideal candidates for Juvederm filler injections because they often want to choose a treatment that can be completed quickly and involves minimal risk and downtime. A few patients may require a supplemental touch-up treatment to meet their personal aesthetic needs. Results with Juvederm can last from six months to a year.
Astute, cordial, and board certified dermatologists Dr. Nguyen and Dr. Hughes receive patients from Houston, Katy, Spring, The Woodlands, Texas, and other suburbs and neighborhoods in this part of the country for Juvederm filler treatment.
For more information on procedures and treatments offered at Texas Surgical Dermatology PA please call 832.663.6566 or click here to contact our dermatologists. Helping patients in Houston, The Woodlands, Springs, Katy and other surrounding areas of Texas.