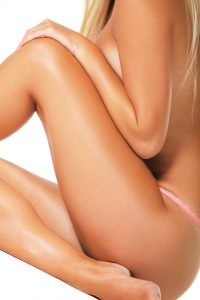 Phlebology is a specialty recognized by the American Medical Association, and it focuses on venous disease management.
Advanced treatments are available today to address problems such as varicose veins and spider veins. At the time of the pre-treatment consultation, the vein therapy provider will inform the patient on all facets of the procedure.
The provider may also show the new patient before and after pictures of previous vein therapy patients. Texas Surgical Dermatology, led by board certified dermatologists Dr. Tri H. Nguyen and Dr. George G. Hughes III, provides vein therapy to patients in Houston, Katy, Spring, The Woodlands, Texas, and surrounding locations.
Vein Therapy Before and After Images
Vein therapy 'before and after' photos refer to a pair or group of pictures of previous patients who have undergone successful procedures. These images include pictures taken before as well as after the treatment at different stages of the vein therapy. These pictures showcase the final outcomes of the vein treatment.
The treatment provider will take these pictures with the consent of the patient and use them with discretion. The only purpose of displaying these images is to display the results of the vein therapy to new patients allowing them to form reasonable expectations from the procedure and make a well-considered and perspicacious decision.
Advantages
Individuals considering an advanced vein therapy procedure may be curious about how this treatment will impact their venous condition. Some patients require only mild vein therapy while others may require a more intensive treatment.
It is entirely natural for a new patient to be unsure about which type of vein therapy is most suitable for their needs. At this point, the treatment provider can show the patient vein therapy before and after images to help them arrive at the right decision.
Developing Realistic Expectations
An expert treatment provider will show the patient vein therapy before and after photos to enable them to form reasonable expectations from the treatment. Patients with realistic expectations from the vein therapy typically achieve higher satisfaction levels and do not face disappointment in the future.
Digital Pictures on Instagram
The surgeon may display digital versions of vein therapy before and after images on their website as well as on Instagram. Prospective patients can see these pictures on the surgeon's site before seeking a vein therapy consultation with them.
Slideshows of before and after vein therapy pictures can offer an even more compelling effect. The surgeon can use innovative features such as Instagram Stories to offer prospective patients more information on vein therapy.
Using Professional Images in the Online Photo Gallery
Images placed on the surgeon's site and social media platforms should appear professional and in this case they certainly do. For example, there should be adequate lighting when taking the images to enable people to clearly visualize the difference between the "before" and "after" scenarios.
Though in this case this particular surgery Texas Surgical Dermatology does not have these images on the site. But this does not mean someone cannot see these salient images during the consultation which is mandatory anyhow. This outstanding clinic believes in transparency and wants any patient of theirs to completely understand what they are signing up for.
Certain doctors even engage professional photographers to take these photos. They can even ask a staff member to take these pictures as long as the individual is experienced in taking these types of images.
A compelling and well-developed online photo gallery will showcase:
Various procedures and techniques

Different body types

Varied ethnicities

Diverse age groups
Kind board certified dermatologists Dr. Nguyen and Dr. Hughes provide vein therapy and other dermatology treatments to patients in Houston, Katy, Spring, The Woodlands, Texas, and nearby areas.
For more information on procedures and treatments offered at Texas Surgical Dermatology PA please call 832.663.6566 or click here to contact our dermatologists. Helping patients in Houston, The Woodlands, Springs, Katy and other surrounding areas of Texas.