Bed
bug
Treatments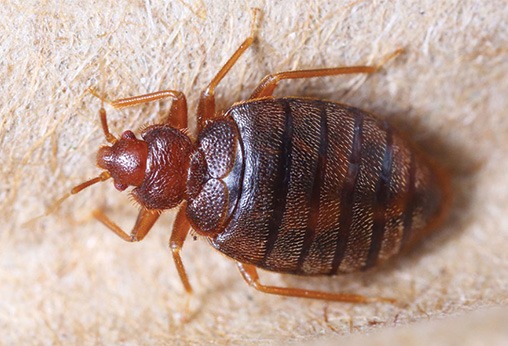 Bed bugs are tiny insects that feed on human blood. They typically hide in dark places close to where humans sleep, and crawl out when people are in deep sleep. It is not easy to find bed bugs at home unless you are specifically looking for them.
You are unlikely to notice when you are bitten by a bed bug because chances are that you would be sleeping at that time. Moreover, before drawing your blood, the bed bug will inject your skin with a substance that prevents you from feeling the bite. You may only notice welts in the affected area when you wake up.
Texas Surgical Dermatology, led by board certified dermatologist Dr. Tri H. Nguyen provides treatment for bed bug bites to patients in Houston, Katy, Spring, The Woodlands, Texas, and surrounding locations.
Treatment Options
If you have experienced one of the following signs, you should consult with your dermatologist for potential bug bites:
Sudden eruptions or blisters

Skin infection (the skin may feel tender after the bite or ooze pus or another discharge)

An allergic response in the affected site (red and inflamed skin or hives)
Your dermatologist may prescribe the following treatments for bed bug bites:
Allergic Response
If you have a severe allergic response, your dermatologist will determine whether you require an injection of corticosteroid, antihistamine, or epinephrine (adrenaline).
Infection
A course of antibiotics may be necessary if the bug bites have caused an infection. If the infection is mild, your dermatologist may advise an antiseptic medication that you can buy without a prescription. Your doctor will suggest which medication to use and will also recommend an antiseptic treatment to prevent worsening of the infection.
Itch
A prescription antihistamine liquid or pill can also help to treat bug bites. Depending on the severity of the itch, your dermatologist will recommend the most appropriate treatment.
At-Home Treatment
If you have not experienced a significant allergic response or do not show any signs of infection, you may be able to treat bed bug bites at home. Here are the two suggested steps for at-home treatment:
Wash the area of the bites with mild soap and water in order to relieve the itchiness and prevent the occurrence of skin infection.
If the itching is persistent, apply a corticosteroid cream to the affected site of the bug bites. Milder forms of this medication can be purchased without prescription, but if you need it in higher strength, you will need a prescription from your dermatologist.
The symptoms of bed bug bites usually subside and heal in about 7 to 14 days. If you have been traveling, you should be conscious about preventing bringing bed bugs into your home. If you are worried you may have picked up bed bugs, you should inspect every item you bring home to look for blackish pecks, shell-like remains, and blood drops to identify the presence of bed bugs.
Board certified dermatologist Dr. Tri H. Nguyen receives patients from Houston, Katy, Spring, The Woodlands, Texas, and nearby areas for bed bug bite treatment.
For More Information contact our Board Certified in Dermatologists at Texas Surgical Dermatology in Spring, TX
For more information on procedures and treatments offered at Texas Surgical Dermatology PA please call 832.663.6566 or click here to contact our dermatologists. Helping patients in Houston, The Woodlands, Spring, Katy and other surrounding areas of Texas.