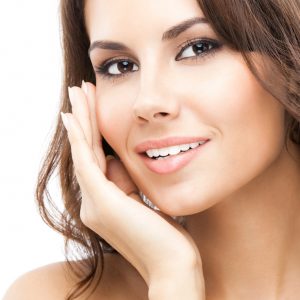 A wide range of non-invasive and minimally invasive skin rejuvenation and restorative procedures are available in cosmetic dermatology today. Patients can choose an appropriate treatment or a combination of two or more procedures in consultation with the skin care professional.
Dr. Tri H. Nguyen is a board certified dermatologist providing a wide range of procedures, including Botox, dermal fillers, laser skin rejuvenation, and chemical peels to patients in Houston, Katy, Spring, The Woodlands, Texas, and surrounding communities.
Botox
Botox is the most popular, FDA approved, non-surgical facial rejuvenation injectable procedure in the US today. This cosmetic dermatology procedure can mitigate aging lines from the face almost instantly. Dr. Nguyen will inject Botox prescription medication directly into the overactive facial muscles that are causing the formation of moderate to severe frown lines between the brows.
Botox is commonly used for patients in the age group of 18 to 65, and the results may last for about three to four months with a single treatment session. Botulinum toxin works by blocking nerve impulses to the injected muscles. This allows the overactive muscles to relax, resulting in removal of lines and creases between the brows. Dr. Nguyen personally consults with patients about Botox and other treatment options for skin enhancement.
Dermal Fillers
Dr. Nguyen offers a range of FDA approved facial filler injections that are designed to reduce wrinkles and restore a more youthful looking face.
Juvederm
Juvederm is one of the most popular dermal filler injections that will add volume to the depleted areas of the face and gently reverse the facial signs of aging. Juvederm injections are based on hyaluronic acid, which is a naturally occurring substance in the body. It supports new collagen formation for longer lasting and natural looking results.
Restylane
Restylane is also a hyaluronic acid based facial filler gel that is designed to smooth mild to moderate wrinkles and fine lines. Restylane is also used to enhance lip definition and shape facial contours. Board certified dermatologist Dr. Nguyen receives patients from Houston, Katy, Spring, The Woodlands, Texas, and nearby areas for dermal filler injections.
Radiesse
Radiesse is a more powerful volumizing facial filler to replenish lost skin volume. The treatment provider will inject the filler gel just under the top layers of skin. Radiesse will act as a scaffold to support the underlying skin structure, while also promoting the production of new collagen for more sustainable results.
Laser Skin Rejuvenation
For more deeply damaged skin, Dr. Nguyen offers laser skin resurfacing. This is a stellar and concrete technique to help improve skin quality, tone, texture, and clarity. It involves the use of precise beams of laser energy that will help to eliminate or improve:
Fine lines

Wrinkles

Acne scars

Sun and environmental damage

Discoloration

Other skin imperfections
Board certified dermatologist Dr. Nguyen uses the Cyanosure Photogenica laser, which is a state of the art technology to treat photodamage. He receives patients from Houston, Katy, Spring, The Woodlands, Texas, and nearby areas.  
For more information on procedures and treatments offered at Texas Surgical Dermatology PA please call 832.663.6566 or click here to contact our dermatologists. Helping patients in Houston, The Woodlands, Springs, Katy and other surrounding areas of Texas.