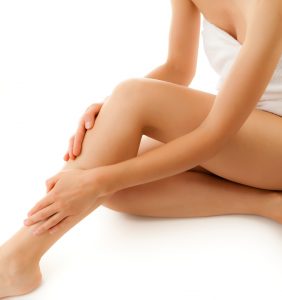 Sclerotherapy is a procedure that is performed to treat spider veins and small varicose veins. This procedure is typically considered by insurance companies to be an elective, cosmetic treatment and is not covered. Insurance coverage may be plausible in some instances, depending on your case. Texas Surgical Dermatology, led by considerate and dependable board-certified dermatologist Dr. Tri H. Nguyen, provides sclerotherapy to patients in Houston, Katy, Spring, The Woodlands, Texas, and surrounding locations.
What is Sclerotherapy?
Sclerotherapy is a procedure in which a small amount of medication is injected into the veins requiring treatment. The veins react to the medication by becoming inflamed and closing off, reabsorbing into the body over the following weeks. This treatment takes about an hour to complete and is performed in the office. Patients can expect to resume normal activities immediately after treatment, sometimes requiring the use of compression stockings. Sclerotherapy is only effective for surface level veins, and cannot be used to treat larger vascular issues such as varicose veins.
Insurance Coverage
Sclerotherapy for treatment of spider veins is typically not covered by insurance. If your spider veins cause pain and itching and sclerotherapy is deemed medically necessary by a doctor, it is possible that your insurance may extend coverage for the procedure. You should contact your insurance company to inquire about coverage for this procedure.
Talk To Your Doctor's Office
When scheduling your consultation with your doctor, be sure to discuss your desire to use insurance for your sclerotherapy treatment. Some offices do not accept insurance as payment, even if your insurance company is offering coverage. Your doctor's office will help you discuss financing and all available payment options.

For More Information contact our Board Certified in Dermatologists at Texas Surgical Dermatology in Spring, TX
For more information on procedures and treatments offered at Texas Surgical Dermatology PA please call 832.663.6566 or click here to contact our dermatologists. Helping patients in Houston, The Woodlands, Spring, Katy and other surrounding areas of Texas.