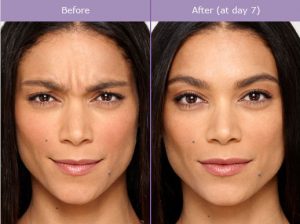 Botox is one of the most popular non-surgical cosmetic dermatology procedures for facial rejuvenation. The active ingredient in Botox is botulinum toxin type A, which is used in tiny quantities to produce the desired wrinkle smoothing effect in specific areas of the face.
The FDA had originally approved Botox in 2002 for the cosmetic reduction of fine lines and wrinkles between the brows and on the forehead.
Botox was additionally approved by the FDA in 2013 for the cosmetic reduction of crow's feet, which are fine lines emanating from the outer end of the eyes. Botox has also been safely used for years for non-label aesthetic purposes such as reduction of fine lines at the base of the nose and other facial wrinkles.
Board certified dermatologists Dr. Tri H Nguyen and Dr. George Hughes III provide Botox injections to patients in Houston, Katy, Spring, The Woodlands, Texas, and other cities and town in this area of the fantastic and leading state of Texas.
Cosmetic Benefits
The role of Botox injections is to temporarily diminish or remove specific facial lines and wrinkles by relaxing the overactive facial muscle that is causing wrinkle formation. In addition to the aesthetic benefits of Botox such as elimination of crow's feet and frown lines, the treatment is also FDA approved for specific medical purposes such as addressing certain eye muscle disorders.
Botox can also be combined with other cosmetic dermatology procedures to produce more comprehensive and harmonious outcomes. Nowadays it is popularly used as a part of a 'liquid facelift' where the treatment provider creates a customized combination of Botox and one or more facial dermal filler injections.
Botox will work well on dynamic wrinkles, which are formed due to overactive muscle movement, while other treatments such as fillers may be used to address facial creases that may occur due to loss of facial volume. Remarkable and astute board certified dermatologists Dr. Nguyen and Dr. Hughes receive patients from Houston, Katy, Spring, The Woodlands, Texas, and nearby areas across the geographical plain in this part of the nation for Botox.
Areas of Treatment
Eyes
Facial expressions and repetitive muscle movements can create wrinkles and fine lines around the eyes. These aging signs respond well to Botox injections. Botox will only affect the muscle nerves, and not the nerves of sensation. Therefore, the patient will not experience loss of sensation in the injection site.
Brows
Activities such as smiling, laughing or frowning can cause wrinkles between the brows over the years. Botox is designed to address moderate to severe frown lines, and can produce significant improvement in this area. Nowadays many men who want to mitigate deep furrows between the brows also seek Botox injecable treatment.
Forehead
Botox can quickly relax the underlying forehead muscles and make the skin appear smoother and revealing a younger looking forehead. Horizontal lines on the forehead particularly respond well to Botox treatment, making the overall results very effective.
Jaw Contouring
In recent years, cosmetic dermatologists have achieved successful results with Botox for jaw contouring. If the jaw muscles are oversized, the face may appear square shaped. Botox can create a more natural, oval shaped face as desired by the patient.
For more information on procedures and treatments offered at Texas Surgical Dermatology PA please call 832.663.6566 or click here to contact our dermatologists. Helping patients in Houston, The Woodlands, Springs, Katy and other surrounding areas of Texas.