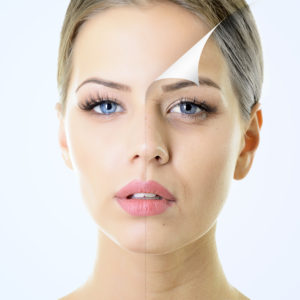 Aging, sun, and wind exposure, and heredity factors can cause the facial skin to become dull, rough, and wrinkles. Chemical peels are a non-surgical cosmetic dermatology treatment to improve these conditions and restore a younger, smoother looking skin. A chemical peel will resurface the uppermost skin layer through peeling action of a customized chemical treatment.
Depending on the patient's facial skin condition, the chemical peel expert will recommend a specific type and strength of the peel.
In case of advanced or high strength peels, deeper and longer lasting outcomes can be achieved. Board certified dermatologists Dr. Tri H. Nguyen and Dr. George Hughes III provide chemical peels to patients in Houston, Katy, Spring, The Woodlands, Texas, and surrounding locations and cities around this massive city of Houston.
When to Choose a Chemical Peel Treatment?
People with one or more of the following facial skin conditions may consider chemical peel dermatology treatments:
The patient has minor wrinkles and fine lines on the face

The facial skin is damaged due to sun and wind exposure

The facial skin is blotchy, discolored or has brown spots

Scars on the face have made the skin surface uneven

The face reveals some precancerous skin growths
Superficial Peels
Superficial peels or light chemical peels may be chosen if the patient has minor skin anomalies on the face that can be corrected with only a mild treatment. These peels can be applied on all skin types with minimal risk of complications. Superficial peels are usually based on a mild form of glycolic acid. No downtime is involved and healing will occur rapidly.
Medium Peels
Medium chemical peels can also be performed as an in-office procedure, but will involve some downtime. TCA acid is a commonly used peeling agent for medium peels. This will go deeper into the skin compared to a light peel.
Pain and discomfort is minimal, but flaking and peeling of skin will occur over a few days to reveal new, younger looking skin. The patient can wear makeup in about one week after the peel as adequate healing would have occurred.
Deep Peels
Deep or advanced chemical peels provide maximum strength treatment. The dermatologist will select the appropriate candidates for this procedure who are seeking significant skin improvement without surgery. Stronger concentrations of TCA are generally a part of deep peels, which are designed to remove the top layer of the skin.
New skin growth will occur in about two weeks after a deep peel procedure. The patient may have to take about two weeks off from their social routine or workplace to allow the healing to take place. In about three weeks, the redness in the face will begin to fade. Dramatic improvements can be seen over a few months as the results are fully established.
Sustainability of Results
In case of deeper peels, the results are longer lasting, but for superficial peels, the treatment should be repeated periodically to prolong benefits. Board certified dermatologists Dr. Nguyen and Dr. Hughes receive patients from Houston, Katy, Spring, The Woodlands, Texas, and nearby areas for chemical peels.

For more information on procedures and treatments offered at Texas Surgical Dermatology PA please call 832.663.6566 or click here to contact our dermatologists. Helping patients in Houston, The Woodlands, Springs, Katy and other surrounding areas of Texas.