Restylane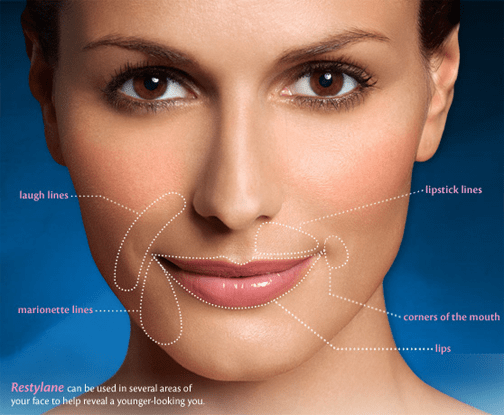 Restylane is one of the safest dermal filler treatments, with a very low rate of complications. At the time of initial consultation, the treatment provider will discuss all aspects of the injectable procedure, including the potential risks.
Texas Surgical Dermatology, led by board certified dermatologist Dr. Tri H. Nguyen, provides Restylane filler to patients in Houston, Katy, Spring, The Woodlands, Texas, and surrounding communities and towns in Texas.
Common Side Effects
Some of the common, but not severe side effects of Restylane include swelling, redness, tenderness, itching, mild bruising, and minor discomfort at the injection sites. These side effects will usually disappear within days or even hours of the procedure.
Additionally, for patients receiving Restylane dermatology treatment in their lips, post-injection swelling is likely to occur.
As hyaluronic acid occurs naturally in the body, there is minimal risk of an allergic reaction or the risk of the body rejecting Restylane gel. People with known allergies to animal products can also receive Restylane treatment without any pre-test requirement.
Abnormal Signs in Rare Cases
No respite from bruising, swelling, and redness even after seven to 10 days. This could indicate an allergic reaction or an infection.
Persistent discomfort and pain even after a week.
Asymmetry in the treated facial sites does not resolve in two weeks.
Appearance of bumps or nodules around the injection sites.
The patient should stay committed to the post-treatment care instructions provided by the dermatologist in order to alleviate their risk of complications.
How to Reduce the Risk
To begin, the patient should select an experienced and board certified dermatologist with advanced facilities to administer Restylane dermal filler injections.
The provider should recommend the correct volume and type of Restylane filler injections according to the patient's unique facial rejuvenation needs, and administer it in precise volumes and accurate locations.
Pregnant and nursing women should avoid Restylane filler injections. If the patient is a smoker, they will have to avoid smoking for a few days or weeks before and after the filler treatment. The dermatologist may also ask the patient to avoid blood thinning medications for a few days.
General Health Concerns
Restylane is widely used all over the world for more than two decades. The FDA approved Restylane for cosmetic facial wrinkle reduction in 2003 after thorough clinical testing. However, although there have been many application-related studies, Restylane related complications have not been evaluated for individuals who are:
Pregnant
Breastfeeding
Below 18 years of age
Prone to formation of keloids (overgrown scars appearing at the site of a healed injury on the skin)
Prone to hypertrophic scars (which appear as raised red lines in the area of a healed skin injury)
Other Precautions
The patient should take care to avoid direct sun and excessive heat for a few weeks after the Restylane treatment.
In addition, patients considering laser treatments or chemical peels after receiving Restylane injectable procedure or those who have received a laser or chemical peel treatment and have yet to heal completely should be informed of their potential risk of inflammation around the injection sites.
Experienced dermatologist, Dr. Nguyen, receives patients from Houston, Katy, Spring, The Woodlands, Texas, and other suburbs and cities in this part of The Lone Star State for Restylane.
For more information on procedures and treatments offered at Texas Surgical Dermatology PA please call 832.663.6566 or click here to contact our dermatologists. Helping patients in Houston, The Woodlands, Springs, Katy and other surrounding areas of Texas.