Wart Treatment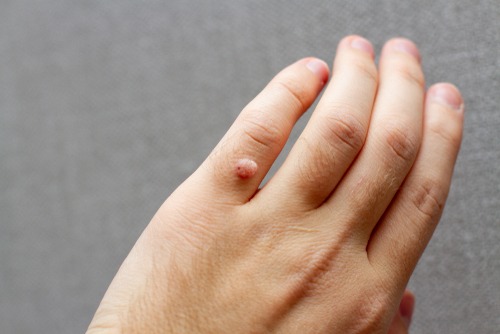 Warts can occur in people of any age group. In most cases, people choose to treat their warts at home with traditional therapies. However, it is recommended to have a dermatologist examine your warts. The dermatologist may scrape off the topmost layer of the warts to look for underlying clotted blood vessels. Shave biopsy may be done if there are signs of clotting.
The wart will then be sent to a lab to rule out malignancy or an abnormal skin growth. Texas Surgical Dermatology, led by board certified dermatologist Dr. Tri H. Nguyen, provides safe and proven skin care procedures to patients in Houston, Katy, Spring, The Woodlands, Texas, and surrounding locations.
Treating Warts
The goal of any treatment is to destroy the wart or to trigger an immune response to the virus. This is irrespective of whether hand warts or facial warts are being treated. Your dermatologist may recommend any of the following treatment approaches depending on the location and size of the warts.
Salicylic Acid and Prescription Medications
Prescription peeling medications and salicylic acid is recommended for facial warts. The treatment is focused on eliminating wart layers bit by bit.
Cryotherapy (Freezing Treatment)
Cryotherapy is performed by dermatologists. It involves applying liquid nitrogen that causes blisters to form at the affected site. You may require repeated treatments. Dead tissue will slough off after a few days.
Trichloroacetic Acid
Your dermatologist may recommend a trichloroacetic acid treatment if both salicylic acid and cryotherapy fail at reducing the appearance of warts. The treatment provider will first shave off the surface of the wart and then apply trichloroacetic acid. You may need weekly treatments until the warts are completely eliminated.
Minor Surgery
The dermatologist in some cases may have no option but to remove the warts surgically. You should know that surgical removal may leave a scar behind.
Laser Therapy
Laser therapy is an effective treatment option for both hand warts and facial warts. Laser energy helps in burning or cauterizing the wart blood vessels. This eventually kills the infected tissue causing the warts to fall off.
Pulse-Dye Lasers
This is another common wart removal procedure. Laser energy heats up blood in the warts causing them to get destroyed. Warts naturally disintegrate and die in the absence of blood vessels. Laser energy has a secondary benefit of attacking the wart causing virus and eliminating it completely. The best part about this treatment is that pulse-dye lasers are mild. You may not feel more than a rubber band snap during the entire procedure.
CO2 Lasers
This is a more aggressive form of laser therapy. The beam is potent enough to cut through the wart. It is usually used for hand and feet wart treatment. This is recommended by surgeons when all other therapies fail. Your dermatologist will make use of a sharp laser beam to cut the wart top. And, then reduce the focus to burn away any remaining wart.
Board certified dermatologist Dr. Nguyen receives patients from Houston, Katy, Spring, The Woodlands, Texas, and nearby areas for advanced and innovative skin care treatments.
For More Information contact our Board Certified in Dermatologists at Texas Surgical Dermatology in Spring, TX
For more information on procedures and treatments offered at Texas Surgical Dermatology PA please call 832.663.6566 or click here to contact our dermatologists. Helping patients in Houston, The Woodlands, Spring, Katy and other surrounding areas of Texas.