Laser skin resurfacing can eliminate the uppermost layer of old or damaged skin in a targeted manner to reveal younger looking, more dazzling skin in a non-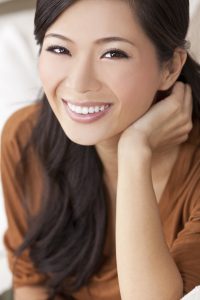 surgical way.
Laser dermatology techniques based on CO2 and other approaches can efficiently mitigate facial wrinkles and creases to restore a revitalized facial appearance.
Texas Surgical Dermatology, led by astute and careful board certified dermatologists Dr. Tri H. Nguyen and Dr. George G. Hughes III, provides laser skin resurfacing procedures to patients in Houston, Katy, Spring, The Woodlands, Texas, and surrounding communities.
Procedure
The targeted laser beam gently eliminates the skin's outer layers and prompts the production of smoother, fresher skin beneath. This procedure does not involve any incisions or cuts, unlike plastic surgery. The latest technique in the field of laser skin resurfacing is the use of wavelengths that are either pulsed or scattered rapidly.
The patient receives minimal heat exposure to their skin, and the surrounding normal tissues are undisturbed. Furthermore, it enables the provider to apply a more powerful CO2 laser which penetrates deep into the tissue for the reduction of prominent wrinkles and creases. Significant age-reversing effects are achieved with laser skin resurfacing.  
Patients can receive this treatment on specific facial areas such as around the mouth or eyes. Alternatively, they can undergo the treatment of their entire face.
At the onset of the CO2 laser skin resurfacing dermatology treatment, the provider applies a local anesthetic to the targeted area to ensure that the patient remains comfortable during the procedure. If the entire face is being treated, some patients may receive intravenous sedation.
Good Candidates
Suitable candidates for CO2 laser skin resurfacing are people with prominent wrinkles and lines on their faces. Individuals with irregular pigmentation or scars on the face may also undergo this treatment to enhance the appearance of their facial skin.
The laser provider will cautiously assess the patient's skin before approving them as a candidate for laser skin resurfacing.
This treatment may be unsuitable for people with acne and very dark skin. Not only this, laser resurfacing may be inappropriate if the patient has stretch marks. The patient should consult a doctor to determine whether laser resurfacing is a suitable treatment option for them.
Benefits
Laser skin resurfacing is a targeted treatment that helps reduce the appearance of facial wrinkles and fine lines, improves the complexion, and reveals brighter and more youthful skin that lies beneath compromised, damaged skin layers. Furthermore, this procedure can make skin aberrations such as scars appear less conspicuous.
Other than correcting moderate to deep wrinkles and creases, this procedure can also address conditions such as irregular pigmentation, benign lesions, photodamage, and pre-cancerous spots. An experienced and pragmatic plastic surgeon or laser skin resurfacing specialist will assess the patient's skin before suggesting this procedure.
Safety and Recovery
CO2 laser skin resurfacing is a safe and predictable treatment in the hands of an experienced and qualified plastic surgeon. Outcomes from the treatment are reproducible.
This procedure enables the surgeon to ablate the skin in layers to produce safe results with minimal side-effects and downtime. Proven board certified dermatologists Dr. Nguyen and Dr. Hughes receive patients from Houston, Katy, Spring, The Woodlands, Texas, and other cities and neighborhoods in the awesome state of Texas for vein treatments.
Board certified dermatologists Dr. Nguyen and Dr. Hughes receive patients from Houston, Katy, Spring, The Woodlands, Texas, and nearby areas for skin care procedures.For more information on procedures and treatments offered at Texas Surgical Dermatology PA please call 832.663.6566 or click here to contact our dermatologists. Helping patients in Houston, The Woodlands, Springs, Katy and other surrounding areas of Texas.