Spider Vein Treatment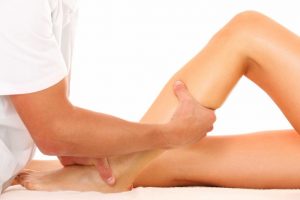 Sclerotherapy is a completely non-surgical and fairly safe dermatology procedure to treat spider veins. However, to achieve predictable outcomes, it is vital to choose a qualified provider for sclerotherapy. The provider will apprise the patient of the potential risks and safety aspects to help them make an informed choice.
During the pre-operative consultation, the patient will have an opportunity to ask questions and clear any concerns about the safety of sclerotherapy. A dedicated provider will satisfy the patient's concerns with detailed and accurate answers. Board certified dermatologists Dr. Tri H. Nguyen and Dr. George Hughes III provide sclerotherapy to patients in Houston, Katy, Spring, The Woodlands, Texas, and other cities in this part of the state and across the landscape.
Side Effects
Some of the temporary side effects of sclerotherapy may be experienced around the injection areas. These will include:
Raised red areas
Minor bruising
Small skin sores
Lines, spots or darkened skin
Multiple red blood vessels
It may take a few days to a few weeks for these side effects to dissipate. No treatment will be necessary for them, but in rare cases, the side effects may persist for months or even years.
Major Complications
In highly exceptional situations, more serious complications of sclerotherapy may occur. These conditions will require immediate medical attention:
Inflammation
Although inflammation is usually mild, but in some cases it may cause swelling, discomfort and warmth around the injection sites. The dermatology treatment provider will prescribe drugs to address the inflammation.
Blood Clotting
A blood clot may occur in a treated vein, which will need to be drained. In extremely rare cases, the clot may move to a deeper vein around the injection site. This condition is known as deep vein thrombosis.
Pulmonary Embolism
Deep vein thrombosis involves a risk of pulmonary embolism, which is also a rare complication. The blood clot from the larger vein may travel to the lungs and block an important artery. If the patient complains of dizziness, breathing difficulty or chest pain, they should be taken to a medical professional.
Formation of Air Bubbles
Formation of small air bubbles may occur in the blood. This condition may be asymptomatic in some cases, but in others it may be indicated by headache, nausea, fainting and visual impairment. Medical attention is required if the symptoms continue or worsen.
Allergic Reaction
In rare cases, an allergic reaction to the medication used in the sclerotherapy injections may occur, requiring prompt medical attention.
How to Reduce Risk?
As a pre-requisite, the patient should select a fully trained and experienced vein treatment provider. The injection treatment sessions should be scheduled with a sufficient gap to allow the injected veins to respond and produce sustainable results. The provider may encourage the patient to walk on a treadmill for a few minutes after the treatment just to check things out and so on.
Compression stockings should be worn for a few days or weeks as per the dermatologist's advice. Board certified dermatologists Dr. Nguyen and Dr. Hughes receive patients from Houston, Katy, Spring, The Woodlands, Texas, and nearby areas for sclerotherapy.
For more information on procedures and treatments offered at Texas Surgical Dermatology PA please call 832.663.6566 or click here to contact our dermatologists. Helping patients in Houston, The Woodlands, Springs, Katy and other surrounding areas of Texas.