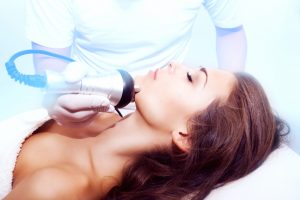 In recent times, laser skin rejuvenation treatments are increasingly popular due to FDA-clearance for innovative laser technologies as well as general positive reviews from surgeons and patients for various laser rejuvenation skin procedures.
At the time of the pre-treatment consultation, the dermatology expert will explain various facets of skin resurfacing, including the estimated costs, to the patient.
Patients can compare laser skin resurfacing costs and advantages with those of other procedures to make a judicious choice, depending on their aesthetic needs.
Texas Surgical Dermatology, led by board certified dermatologist Dr. Tri H. Nguyen, provides skin care treatments to patients in Houston, Katy, Spring, The Woodlands, Texas, and surrounding communities.
Cost Comparison with Surgery
Skin tightening plastic surgery for the face and body can cost significantly more than laser skin resurfacing non-surgical treatment.
A surgical procedure will likely be more cost-effective in the long run, but not every patient is willing to spend a substantial sum of money on elective surgery and may want to avoid the risks, downtime, and discomfort associated with a surgical procedure.  
Laser treatments do not involve general anesthesia or IV sedation, which is typically a requirement in a plastic surgery procedure. Laser skin resurfacing can be easily undertaken in-office, unlike surgery.
Consequently, surgery may be more expensive due to the surgeon's charges, anesthesiologist's fee, surgical venue costs, or expenses related to overnight hospital stay.
Additionally, a surgical procedure may also involve costs such as prescription meds, medical tests, and surgical accessories. But most of these costs are avoided in non-invasive treatments such as laser skin resurfacing.
Location of the Practice
The costs of laser skin resurfacing dermatology treatment can differ between two practices and even between two patients at the same practice. The cost of living differs from one region to another.
This can affect the costs of most products and services, including the cost of cosmetic treatments such as laser skin resurfacing.
Nature and Extent of Treatment
Laser skin resurfacing procedures may be ablative or non-ablative. Both treatment approaches involve a different laser technique which varies in the intensity, treatment site to be addressed, and the number of sessions necessary.
Ablative laser techniques are more vigorous and offer deeper outcomes. On the other hand, non-ablative lasers are less aggressive and are more appropriate for the treatment of mild to moderately damaged skin.
The costs of various laser resurfacing techniques are different. The number of treatment sessions usually necessary range between three to six. The cost of the procedure may be determined as a lump sum package rate or on a per treatment basis, depending on the situation.
The treatment site may include the entire face or a part of the face. These factors will contribute to the overall cost of the treatment.
On average, the patient may need three to six treatment sessions to achieve optimal results. Aggressive treatments that involve ablative lasers may cost slightly more.
But the costs may decrease when the treatment is an element of a combined cosmetic procedure. Patients can explore various financing options to pay for the procedure in easy monthly installments.
Board certified dermatologist Dr. Nguyen receives patients from Houston, Katy, Spring, The Woodlands, Texas, and nearby areas for advanced skin care solutions.
For more information on procedures and treatments offered at Texas Surgical Dermatology PA please call 832.663.6566 or click here to contact our dermatologists. Helping patients in Houston, The Woodlands, Springs, Katy and other surrounding areas of Texas.