The Woodlands Dermatologist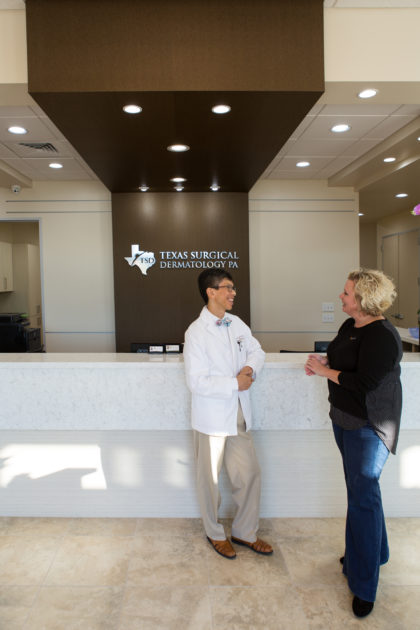 Any dermatology procedure, whether medical or cosmetic, is a personal journey for a patient, and they should make sure that they go through that journey under the safe guidance of a fully trained and experienced dermatologist. The dermatologist should have a combination of professional skills as well as interpersonal skills such as compassion and empathy.
Dr. Tri H Nguyen is a fellowship trained and board certified dermatologist whose qualifications are matched by his commitment to personalized care and compassion for every patient. Patients in Houston, Katy, Spring, The Woodlands, Texas, and surrounding communities have an opportunity to receive state of the art skin care procedures from Dr. Nguyen.
Customized Treatments
Dr. Nguyen has the expertise to provide a comprehensive range of dermatology procedures in the areas of cosmetic dermatology, surgical dermatology, skin cancer procedures, Mohs surgery, reconstructive surgery and phlebology or the treatment of vein diseases. In each of these areas, he customizes the procedures to match with the unique needs of a patient.
Dr. Nguyen believes that optimal results in dermatology can be achieved when the dermatologist creates a customized treatment plan tailored to the specific requirements of a patient. He will carefully evaluate the skin quality and type, nature and extent of skin condition, patient's personal goals and aspirations, and then offer a customized treatment or a combination of treatments that are designed to achieve the best outcomes.
Professional Accomplishments
Dr. Nguyen is a board certified dermatologist, a fellowship trained expert in Mohs surgery, and having a specialization in phlebology. He was elected a Fellow of the American College of Phlebology (FACPh), a recognition earned only by 45 physicians in the US, as of 2011.
He has served as faculty at the Mayo Clinic in Rochester, MN and at MD Anderson Cancer Center where he was a Professor of Dermatology and Head and Neck Surgery. At MD Anderson, he created and directed the first successful Mohs Surgery program that is still continuing. At his current private practice, Dr. Nguyen receives patients from Houston, Katy, Spring, The Woodlands, Texas, and nearby areas.
Speaker and Author
Apart from his dedication to his private dermatology practice, Dr. Nguyen also invests time in sharing and disseminating his knowledge, research and experiences to further enrich the field of dermatology. He has given more than 200 lectures nationally and internationally and is a frequently invited speaker.
He has not only trained residents and fellows, but has also published two medical textbooks: "Flaps and Grafts in Dermatologic Surgery," which is a well-known textbook on reconstructive surgery, and "Treatment of Leg Veins," which has been translated into four languages. He is also the author of more than scientific 50 articles and book chapters.
Inspiration
Dr. Nguyen calls his grandfather as his greatest inspiration in the field of medicine. His grandfather was the first ENT surgeon in Vietnam, and one of only six physicians trained each year in the 1930s. Dr. Nguyen credits his grandfather for igniting within him a love for medicine and a lifelong commitment to excellence.
For more information on procedures and treatments offered at Texas Surgical Dermatology PA please call 832.663.6566 or click here to contact our dermatologists. Helping patients in Houston, The Woodlands, Springs, Katy and other surrounding areas of Texas.