Varicose Vein Treatment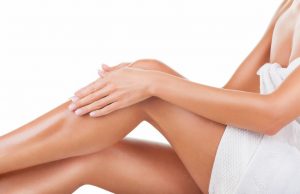 Varicose veins can be treated using traditional vein stripping technique, which can be a highly invasive and risky procedure.
Therefore, an experienced dermatology expert would prefer to use one of the latest, less invasive treatments, which involve less discomfort, downtime and risk. Endovenous laser ablation and ambulatory phlebectomy are two such less invasive procedures.
These less invasive varicose vein treatments can be performed in an office setting, without any need for general anesthesia. Patients can return to their normal activities the same day or the next day. The remarkable, cutting edge, and board certified dermatologists Dr. Tri H. Nguyen and Dr. George Hughes III provide varicose vein treatments to patients in Houston, Katy, Spring, The Woodlands, Texas, and surrounding locations.
Potential Side Effects
Endovenous laser ablation and ambulatory phlebectomy may involve minor side effects in some cases in the treated sites. These effects are temporary and will resolve rapidly without requiring any specific treatment.
Raised red areas
Minor bruising
Small skin sores
Lines, spots or darkened skin
Multiple red blood vessels
In case of ambulatory phlebectomy, as the name suggests, the patient can continue to walk normally after the treatment. Endovenous laser ablation is a relatively minor procedure, which will anyway not impose any major restrictions on movement during the recovery phase.
Severe Complications
In rare circumstances, more serious complications of varicose vein treatment may take place, requiring prompt medical attention.
Inflammation
Inflammation is usually minor, but in a few cases it may lead to swelling or discomfort in the treated sites. The dermatology expert will prescribe drugs to improve inflammation.
Blood Clotting
A blood clot may develop in a treated vein, which will have to be drained out. In a rare event, the clot may travel to a deeper vein around the injection area, which is known as deep vein thrombosis.
Pulmonary Embolism
Deep vein thrombosis involves a risk of pulmonary embolism, which is an extremely rare but serious complication. The blood clot from a large vein may move to the lungs and block a critical artery. If the patient feels dizzy, has breathing difficulties or chest pain, they should get urgent medical attention.
Formation of Air Bubbles
Tiny air bubbles may form in the blood in a few cases. The condition may be asymptomatic, but sometimes it may be indicated by headache, nausea, fainting or visual impairment. In case the symptoms worsen or do not resolve, it is important to consult the treatment provider.
Allergic Reaction
In a rare case, a patient may develop an allergic reaction to the local anesthetic or another medication. This will require quick medical attention to alleviate the symptoms.
How to Reduce the Risk?
Varicose vein treatment is a major and specialized procedure. The patient should ideally select a board certified dermatologist with experience in vein treatments. The use of compression stockings may be advised for a few days or weeks, depending on the patient's vein condition and the customized varicose vein treatment plan.
The treatment provider will determine the right size of stockings for a particular patient to optimize benefits. Dr. Nguyen and Dr. Hughes receive patients from Houston, Katy, Spring, The Woodlands, Texas, and nearby areas for varicose vein treatment.
For more information on procedures and treatments offered at Texas Surgical Dermatology PA please call 832.663.6566 or click here to contact our dermatologists. Helping patients in Houston, The Woodlands, Springs, Katy and other surrounding areas of Texas.