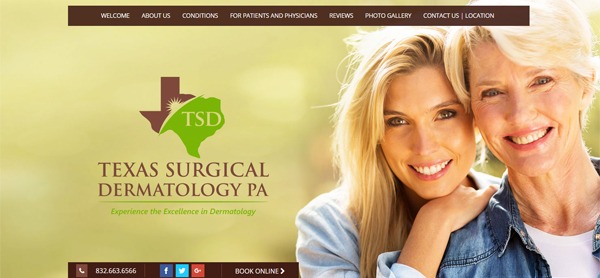 Advancements in the field of skin care have led to the development of a wide range surgical and non-surgical dermatology techniques. These techniques and procedures can effectively address both medical and cosmetic skin-related issues. However, one of the challenges is lack of awareness among patients about the availability of cutting edge skin care solutions.
This is where Texas Surgical Dermatology PA new website called MohsDermHouston.com can be useful in bridging the information and awareness gap. Dr. Tri Nguyen is a board certified dermatologist providing state of the art skin care procedures to patients in Houston, Katy, Spring, The Woodlands, Texas, and surrounding communities.
Comprehensive Online Resource
When Dr. Nguyen decided to create a new website, he was clear about his goal of developing a comprehensive information online resource about dermatology, while at the same time fulfilling his primary purpose of having a website to represent his practice on the Internet. Dr. Nguyen partnered with CreativeTakeMedical.com, which is a leading website design, content development and SEO company working exclusively for medical professionals in the US.
With the help of relevant inputs from Dr. Nguyen and his team, CreativeTake developed MohsDermHouston.com, covering almost all the procedures and services that are offered by Dr. Nguyen. People who want to learn about the latest surgical, non-surgical, cosmetic and reconstructive dermatology procedures can receive authentic information in a patient-friendly language on the website.
Practice Philosophy
MohsDermHouston.com provides information about the philosophy of Texas Surgical Dermatology to let new and potential patients know about the focus, commitment and mission of the practice. The website highlights on the home page about the principle of putting the patient first under all circumstances at the practice. The practice is committed to delivering advanced patient care that is compassionate, efficient and cost-effective.
Practice Goals
MohsDermHouston.com provides useful insights about how the practice approaches a skin care procedure, and what are the key goals of the practice that it strives to achieve in every case. Pursuit of excellence is the constant theme running through all areas of the practice.
The website lists practice goals such as practicing medicine with compassion and warmth, listening carefully to the patients and involving them in the quality improvement processes through their candid feedback, and working together as a cohesive team with trained staff members to achieve desirable results.
The practice also continues to work towards maintaining and enhancing an environment that is completely safe, state of the art, and comforting. Board certified dermatologist Dr. Nguyen receives patients from Houston, Katy, Spring, The Woodlands, Texas, and nearby areas.
Procedures
Mohs & Dermatology Associates specializes in areas such as cosmetic dermatology, skin cancers, Mohs micrographic surgery, reconstructive surgery, dermatologic surgery, and phlebology. All these procedures are discussed in detail under separate sections, and include sub-sections for specific treatments under each procedure.
About the Doctor
MohsDermHouston.com included a detailed, separate section on Dr. Nguyen and another section on Rosann Porretto Clements, a Family Nurse practitioner with 30 years of nursing experience. New patients can review this information to learn more about Dr. Nguyen before they are ready to choose him as their dermatologist.
For more information on procedures and treatments offered at Texas Surgical Dermatology PA please call 832.663.6566 or click here to contact our dermatologists. Helping patients in Houston, The Woodlands, Springs, Katy and other surrounding areas of Texas.