Dr. Tri H. Nguyen
Mohs Surgery | Mohs Specialist | Houston | The Woodlands | Springs | Katy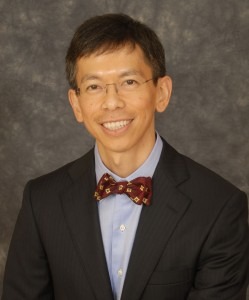 Dr. Tri H  Nguyen (pronounced "Tree Winn") is  Board Certified in Dermatology and fellowship trained in Mohs surgery.  He is nationally recognized for his excellence in surgical dermatology and expertise in skin cancer, Mohs surgery, and Reconstructive Surgery.  Dr Nguyen also specializes in Phlebology (treatment of veins  & venous diseases) and was elected a Fellow of the American College of Phlebology (FACPh), a recognition of excellence awarded to only 45 physicians in the United States (as of 2011).
Dr Nguyen is a caring, highly dedicated physician: striving to surpass the highest standards in safety, quality, and patient outcomes.  He has served as faculty at the Mayo Clinic (Rochester, MN) and at MD Anderson Cancer Center where he was a Professor of Dermatology and Head and Neck Surgery.  At MD Anderson, he created and directed  the first successful Mohs Surgery program that is still there today.  Dr Nguyen has had extensive training and experience , including:
1986-1992: College and Medical School BA-MD Program, University of Missouri-Kansas City (Kansas City, MO).
1992-1993: Research- Dermatology Research Fellowship, Department of Dermatology, Emory University (Atlanta, GA).
1993-1994: Internship- Internal Medicine, University of California-Los Angeles (UCLA) Medical Center (Los Angeles, CA).
1994-1997: Residency- Dermatology, Harvard Medical School. Massachusetts General Hospital (Boston, MA).
1997-1998: Surgical Fellowship,  Mohs and Dermatologic Surgery, Mayo Clinic Foundation  (Rochester, MN).
1998-2003: Assistant Professor, Department of Dermatology, Mayo Clinic Foundation (Rochester, MN)
2003-2009: Professor, Director of Mohs Surgery program, MD Anderson Cancer Center (Houston, TX).
2009-Present: Mohs & Dermatology Associates, Northwest Diagnostic Clinic (NWDC, Houston, TX).
As a leading educator, Dr Nguyen has given over 200 lectures nationally and internationally and is a frequently invited speaker. He has trained numerous residents and fellows and is well published, with two medical textbooks: Flaps and Grafts in Dermatologic Surgery    (an acclaimed textbook on reconstructive surgery) and Treatment of Leg Veins,  which has been translated into four languages. Additionally, he has authored over 50 scientific articles and book chapters.
Dr Nguyen's thoughts on why he became a Mohs Surgeon, views on life, and what he would have done differently. 
Excerpts from an interview:  Patients often ask how Dr Nguyen always appears so calm and peaceful. To this, Dr Nguyen answers  "It isn't difficult when you love what you do and remember who you do it for.  My patients are everything and I always remember how fortunate we are compared to others.  I have a lovely family at home and a great, caring team at work.  I am grateful to be a physician and Mohs surgeon. Having travelled widely and seen how much of the world lives, I know that we have much to be grateful in America."
Why Mohs and Dermatologic Surgery?  
Dermatologic surgery became my calling for a most selfish reason, wishing to spend quality time with my patients.  Most of us love surgical dermatology for its diversity, creativity, and its perfect blend with art and science. The best kept secret of dermasurgery, however, is the time we can spend with our patients.  Since most of our surgeries are performed under local anesthesia with patients awake, we can spend literally hours interacting with them and appreciating their life experiences. A Mohs case with reconstruction, for example, may require several hours to an entire day. What an opportunity to be with another human being! Where else in medicine do you have this luxury?
Who has been most influential to your career?
Dr. Nguyen received his greatest inspiration from his grandfather, the first ENT surgeon in Vietnam, and one of only six physicians trained each year in the 1930's (then French Indochina).  He inspired within me a love of medicine and a commitment to excellence. My grandfather always stressed to me that "Your best teachers are your patients, so be grateful and devote your all to them." His enduring lesson for me is that  "the needs of my patients always come first."
My Most Memorable Patient…
This was a patient during my internship at UCLA. He was an elderly man who had terminal colon cancer. I love caring for veterans and we bonded with his many wonderful life and army stories. He was a "Do Not Resuscitate" patient and one morning, I literally watched him die, holding his hand and breathing his last breaths with him. He had no family and I hope he was less lonely as I sat beside him.  The experience of seeing life fade before you is both a curse and a blessing. The curse is that it is terrifying, but the gift is that you will forever savor each breath and moment.
My Interests Outside of Medicine…
I once taught Kung Fu and loved to cycle. Martial arts and medicine have much in common. Both demand discipline, commitment, and a constant drive for excellence to succeed. These days, I am devoted to my family and playing with my 2 daughters, becoming a child again. Having children has actually made me a better teacher and physician to my patients. Being a parent is the greatest privilege and responsibility I can imagine. I hope to teach my girls the 3 loves that I was taught: love of life, love of family, and love of country.
What Would I Have Done Differently?
I would have taken my time. Coming to America and starting anew, my parents always encouraged us to stick to the tried and true. Consequently, I have accelerated everything in my life, from medical school to where I am today. Had I the resources, I would have loved to have taken some detours or at least a less traveled path. My friend half-jokingly compares me to a laser-focused and intense. I would rather be a 60 watt bulb- softly glowing.